29-07-2020 | Original Article | Uitgave 6/2021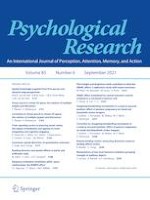 Response orientation modulates pitch–space relationships: the ROMPR effect
Tijdschrift:
Auteurs:

Sarah F. Klapman, Jordan T. Munn, Jonathan M. P. Wilbiks
Belangrijke opmerkingen
Publisher's Note
Springer Nature remains neutral with regard to jurisdictional claims in published maps and institutional affiliations.
Abstract
Congruency between auditory and visuospatial stimuli has been previously shown to affect responses to multisensory stimulus pairs, and congruency between stimuli and response devices may play a role in response speed and accuracy. Across two experiments, we tested whether the accuracy and speed of pitch judgments were affected by a congruent or incongruent paired visual stimulus, and whether the relationship was modulated by response orientation. In Experiment 1, participants using a vertically (transversely) oriented keyboard demonstrated a large crossmodal vertical effect, but a minimal crossmodal horizontal effect. In contrast, Experiment 2 used a horizontally oriented keyboard, while also examining whether musical training impacts pitch judgments. As in the first experiment, we found an effect of response mapping on pitch judgments; these results suggest that vertical visual stimuli are processed automatically, while the effects of horizontal visual stimuli are decisional and require a compatible response orientation. Based on these findings, we propose an effect we call the ROMPR effect: response orientation modulates pitch–space relationships. Unexpectedly, non-musicians demonstrated significant ROMPR effects while trained musicians did not. We suggest that non-musicians are more likely to use visual information when making spatial location judgments of pitch: unlike musicians, they have not been trained to rely exclusively on auditory information during pitch processing. We also discuss alternative explanations of the data: namely, that there is a need to disambiguate audiovisual congruency from visual–response congruency with modulations of experimental design.