01-12-2014 | Methodology | Uitgave 1/2014 Open Access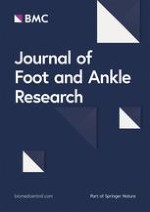 Repeatability of a multi-segment foot model with a 15-marker set in healthy adults
Tijdschrift:
Auteurs:

Sang Gyo Seo, Dong Yeon Lee, Hyuk Ju Moon, Sung Ju Kim, Jihyeung Kim, Kyoung Min Lee, Chin Youb Chung, In Ho Choi
Belangrijke opmerkingen
Electronic supplementary material
The online version of this article (doi:
10.​1186/​1757-1146-7-24
) contains supplementary material, which is available to authorized users.
Competing interests
The authors declare that they have no competing interests.
Authors' contributions
SGS, DYL and IHC conceived of the study; participated in design of the study; performed the data analysis including statistical analysis; and participated in drafting the manuscript. HJM, JHK, KML and CYC participated in its design and coordination and helped to draft the manuscript. SJK helped to perform statistical analysis. All authors read and approved the final manuscript.
Abstract
Background
Several 3D multi-segment foot models (MFMs) have been introduced for the in vivo analysis of dynamic foot kinematics. However, reproducibility of a model should be checked and ascertained before clinical utilization of a MFM. The purpose of this study was to determine the reliability of recently introduced MFM with a 15-marker set by assessing the participant's stride-to-stride (intra-session) and visit-to-revisit (inter-session) repeatability.
Methods
Twenty healthy adults with a mean age of 28.9 years (10 males and 10 females) were tested. Three representative strides from five separate trials were used for analysis from each session. Kinematic data of foot segmental motion was collected and tracked using the Foot3D Multi-Segment Software (Motion Analysis Co., Santa Rosa. CA). A retest was performed in the same manner at an interval of 4 weeks. Coefficients of multiple correlation (CMC) and intra-class correlation coefficient (ICC) were calculated in order to assess the intra-session and inter-session repeatability.
Results
Inter-segment foot angles from healthy adults from a MFM with 15-marker set showed a narrow range of variability during the gait cycle. The mean intra-session ICC was 0.981 (±0.010), which was interpreted as excellent. The mean intra-session CMC was 0.948 (±0.027), which was interpreted as very good repeatability. The mean inter-session ICC was 0.886 (±0.047) and the mean inter-session CMC was 0.801 (±0.077), which were interpreted as excellent and good repeatability, respectively.
Conclusion
We demonstrated a MFM with a 15-marker set had high intra-session and inter-session repeatability, especially in sagittal plane motion. We thought this MFM would be applicable to evaluation of the segmental foot motion during gait.