01-05-2014 | Uitgave 4/2014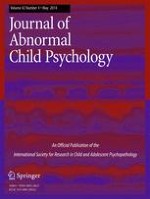 Reliable Ratings or Reading Tea Leaves: Can Parent, Teacher, and Clinician Behavioral Ratings of Preschoolers Predict ADHD at Age Six?
Tijdschrift:
Auteurs:

Sarah O'Neill, Robyn L. Schneiderman, Khushmand Rajendran, David J. Marks, Jeffrey M. Halperin
Abstract
To assess the relative ability of parent, teacher, and clinician behavioral ratings of preschoolers to predict ADHD severity and diagnosis at 6 years of age. Hyperactive/inattentive preschoolers [
N
 = 104, 75 % boys, Mean (SD) age = 4.37 (0.47) years] were followed over 2 years (mean = 26.44 months, SD = 5.66). At baseline (BL), parents and teachers completed the ADHD-RS-IV and clinicians completed the Behavioral Rating Inventory for Children following a psychological testing session. At age 6, [Mean (SD) age = 6.62 (0.35) years], parents were interviewed with the K-SADS-PL; teachers completed the ADHD-RS-IV; and laboratory measures of hyperactivity, impulsivity, and inattention were obtained from children. Hierarchical logistic and linear regression analyses examined which combination of BL ratings best predicted 6-year-old ADHD diagnosis and severity, respectively. At age 6, 56 (53.8 %) children met DSM-IV criteria for a diagnosis of ADHD. BL ratings from parent/teacher/clinician, parent/teacher and parent/clinician combinations significantly predicted children who had an ADHD diagnosis at age 6. Parent and clinician, but not teacher, behavior ratings were significant independent predictors of ADHD diagnosis and severity at 6-years-old. However, only clinician reports of preschoolers' behaviors predicted laboratory measures of over-activity and inattention at follow-up. Cross-situationality is important for a diagnosis of ADHD during the preschool years. Among parents, teachers and clinicians, positive endorsements from all three informants, parent/teacher or parent/clinician appear to have prognostic value. Clinicians' ratings of preschoolers' inattention, impulsivity and hyperactivity are valid sources of information for predicting ADHD diagnosis and severity over time.