01-09-2009 | Uitgave 3/2009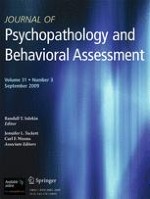 Reliability, Validity and Invariance of the Narcissistic Personality Questionnaire for Children-Revised (NPQC-R)
Auteurs:

Rebecca P. Ang, Adrian Raine
Belangrijke opmerkingen
A copy of the NPQC-R and scoring key can be obtained from Rebecca P. Ang.
Abstract
Using confirmatory factor analysis, this study compared the 4-factor 18-item Narcissistic Personality Questionnaire for Children (NPQC) and the 2-factor, 12-item Narcissistic Personality Questionnaire for Children-Revised (NPQC-R). Support was found for the 2-factor structure of the 12-item NPQC-R using two independent adolescent school-based samples (
n
 = 479 and
n
 = 470). The 2-factor NPQC-R model (i.e., Superiority, Exploitativeness) showed a better fit in both adolescent samples than the alternative 4-factor NPQC model. There was strong support for NPQC-R's invariance across gender and age. The NPQC-R was found to have reasonable internal consistency estimates, test–retest reliability estimates, and adequate convergent and discriminant validity estimates. Collectively, these results support the utility of the NPQC-R as a measure of narcissism in children and adolescents.