01-09-2015 | Brief Communication | Uitgave 9/2015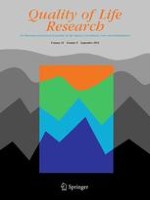 Reliability of the autoimmune bullous disease quality of life (ABQOL) questionnaire in the USA
Tijdschrift:
Auteurs:

Deshan F. Sebaratnam, Joyce Okawa, Aimee Payne, Dédée F. Murrell, Victoria P. Werth
Abstract
Purpose
To evaluate the reliability of the autoimmune bullous diseases quality of life (ABQOL) questionnaire in a North American patient cohort.
Methods
Patients attending the dermatology clinics of the University of Pennsylvania with a histological diagnosis of an autoimmune bullous disease (AIBD) and self-reported proficiency in English were recruited to participate in the study. Patients completed the ABQOL questionnaire at Day 0 and Day 3. Internal consistency was calculated through Cronbach's alpha. Test–retest reliability was determined by the intraclass correlation coefficient.
Results
Of the 45 patients enrolled in the study, 39 patients (87 %) participated to completion. The mean age was 60.7 years with an equal sex distribution observed. Patients had a range of AIBD including pemphigus vulgaris, bullous pemphigoid, pemphigus foliaceus, epidermolysis bullosa acquisita, mucous membrane pemphigoid and linear IgA disease. Cronbach's alpha was calculated to be 0.90. The intraclass correlation coefficient was calculated to be 0.93 (95 % confidence interval 0.88–0.94).
Conclusion
The ABQOL was found to be reliable tested by internal consistency and test–retest reliability in an American patient cohort. It represents a promising disease-specific outcome measure for patients with AIBD.