01-12-2010 | Uitgave 10/2010 Open Access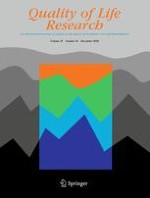 Reliability, construct and criterion validity of the KIDSCREEN-10 score: a short measure for children and adolescents' well-being and health-related quality of life
Tijdschrift:
Auteurs:

Ulrike Ravens-Sieberer, Michael Erhart, Luis Rajmil, Michael Herdman, Pascal Auquier, Jeanet Bruil, Mick Power, Wolfgang Duer, Thomas Abel, Ladislav Czemy, Joanna Mazur, Agnes Czimbalmos, Yannis Tountas, Curt Hagquist, Jean Kilroe, the European KIDSCREEN Group
Belangrijke opmerkingen
Members of the KIDSCREEN group are as follows: Austria: Wolfgang Duer, Kristina Fuerth; Czech Republic: Ladislav Czerny; France: Pascal Auquier, Marie-Claude Simeoni, Stephane Robitail, Germany: Ulrike Ravens-Sieberer (international coordinator in chief), Michael Erhart, Jennifer Nickel, Veronika Ottova, Bärbel-Maria Kurth, Angela Gosch, Ursula von Rüden; Greece: Yannis Tountas, Christina Dimitrakakis; Hungary: Agnes Czimbalmos, Anna Aszman; Ireland: Jean Kilroe, Celia Keenaghan; The Netherlands: Jeanet Bruil, Symone Detmar, Eric Veripps; Poland: Joanna Mazur, Ewa Mierzejeswka; Spain: Luis Rajmil, Silvina Berra, Cristian Tebé, Michael Herdman, Jordi Alonso; Sweden: Curt Hagquist; Switzerland: Thomas Abel, Corinna Bisegger, Bernhard Cloetta, Claudia Farley; United Kingdom: Mick Power, Clare Atherton, Katy Phillips.
Abstract
Background
To assess the criterion and construct validity of the KIDSCREEN-10 well-being and health-related quality of life (HRQoL) score, a short version of the KIDSCREEN-52 and KIDSCREEN-27 instruments.
Methods
The child self-report and parent report versions of the KIDSCREEN-10 were tested in a sample of 22,830 European children and adolescents aged 8–18 and their parents (
n
= 16,237). Correlation with the KIDSCREEN-52 and associations with other generic HRQoL measures, physical and mental health, and socioeconomic status were examined. Score differences by age, gender, and country were investigated.
Results
Correlations between the 10-item KIDSCREEN score and KIDSCREEN-52 scales ranged from
r
= 0.24 to 0.72 (
r
= 0.27–0.72) for the self-report version (proxy-report version). Coefficients below
r
= 0.5 were observed for the KIDSCREEN-52 dimensions Financial Resources and Being Bullied only. Cronbach alpha was 0.82 (0.78), test–retest reliability was ICC = 0.70 (0.67) for the self- (proxy-)report version. Correlations between other children self-completed HRQoL questionnaires and KIDSCREEN-10 ranged from
r
= 0.43 to
r
= 0.63 for the KIDSCREEN children self-report and
r
= 0.22–0.40 for the KIDSCREEN parent proxy report. Known group differences in HRQoL between physically/mentally healthy and ill children were observed in the KIDSCREEN-10 self and proxy scores. Associations with self-reported psychosomatic complaints were
r
= −0.52 (−0.36) for the KIDSCREEN-10 self-report (proxy-report). Statistically significant differences in KIDSCREEN-10 self and proxy scores were found by socioeconomic status, age, and gender.
Conclusions
Our results indicate that the KIDSCREEN-10 provides a valid measure of a general HRQoL factor in children and adolescents, but the instrument does not represent well most of the single dimensions of the original KIDSCREEN-52. Test–retest reliability was slightly below a priori defined thresholds.