25-05-2018 | Uitgave 6/2018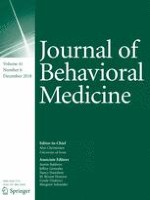 Relationships between dispositional mindfulness, health behaviors, and hemoglobin A1c among adults with type 2 diabetes
Tijdschrift:
Auteurs:

J. Fanning, C. Y. Osborn, A. E. Lagotte, L. S. Mayberry
Abstract
Examine cross-sectional relationships between dispositional mindfulness and diabetes self-care behaviors (i.e., medication adherence, diet and exercise behavior, and self-monitoring of blood glucose; SMBG), hemoglobin A1c (HbA1c, %), and body mass index (BMI; continuously and obese vs. not). Adults with type 2 diabetes (
N 
= 148,
M
age
 = 55.7 ± 10.1) who were recruited to participate in a web-based diabetes medication adherence intervention completed all assessments at enrollment. In unadjusted analyses, mindfulness was associated with better dietary habits and worse HbA1c (
p 
< .05). After controlling for a priori covariates (demographics, years since diabetes diagnosis, and insulin status), mindfulness remained associated with better dietary behavior (
p 
< .01) but not HbA1c. Mindfulness was not associated with medication adherence, exercise behavior, SMBG, or body mass index. We found evidence that dispositional mindfulness plays an important role in dietary behaviors, supporting the use of mindful eating techniques in diabetes self-management interventions. Fostering mindfulness may be one of several behavioral tools needed to support key self-care behaviors and improve HbA1c.