09-09-2019 | Uitgave 1/2020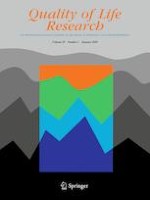 Relationships between cognition, function, and quality of life among HIV+ Canadian men
Tijdschrift:
Auteurs:

Nancy E. Mayo, Marie-Josée Brouillette, Susan C. Scott, Marianne Harris, Fiona Smaill, Graham Smith, Réjean Thomas, Lesley K. Fellows, and investigators from the Positive Brain Health Now Study
Belangrijke opmerkingen
Electronic supplementary material
Publisher's Note
Springer Nature remains neutral with regard to jurisdictional claims in published maps and institutional affiliations.
Abstract
Objective
To estimate the extent to which HIV-related variables, cognition, and other brain health factors interrelate with other HIV-associated symptoms to influence function, health perception, and QOL in older HIV+ men in Canada.
Design
Cross-sectional structural equation modelling (SEM) of data from the inaugural visit to the Positive Brain Health Now Cohort.
Setting
HIV clinics at 5 Canadian sites.
Subjects
707 men, age ≥ 35 years, HIV+ for at least one year, without clinically diagnosed dementia.
Main outcome measures
Five latent and 21 observed variables from the World Health Organization's biopsychosocial model for functioning and disability and the Wilson–Cleary Model were analysed. SEM was used to link disease factors to symptoms, impairments, function, health perception, and QOL with a focus on cognition.
Results
QOL was explained directly by depression, social role, health perception, social support, and quality of the environment. Measured cognitive performance had direct effects on activity/function and indirect effects on participation, HP and QOL, acting through self-reported cognitive difficulties and meaningful activities.
Conclusion
The biopsychosocial model showed good fit, with RMSEA < 0.05. This is the first time the full model has been tested in HIV. All of the domains included in the model are theoretically amenable to intervention and many have evidence-based interventions that could be harnessed to improve QOL.