01-07-2013 | Original Paper | Uitgave 5/2013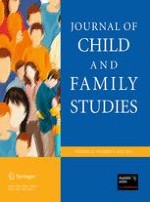 Relationship Quality as a Moderator of Anxiety in Siblings of Children Diagnosed with Autism Spectrum Disorders or Down Syndrome
Tijdschrift:
Auteurs:

Corey A. Pollard, Carolyn McNamara Barry, Brian H. Freedman, Beth A. Kotchick
Abstract
The purpose of this study was to examine typically-developing adolescents' perceived relationship quality with their developmentally-disabled sibling, specifically siblings diagnosed with an autism spectrum disorder (ASD) or Down syndrome (DS). The 119 eleven through seventeen-year-old adolescent participants (
M
= 13.32, SD = 1.90) completed an online survey that assessed demographics, sibling relationship quality, and anxiety. Results showed that siblings of children with DS have a greater overall sibling relationship quality than do siblings of children with an ASD. Results further indicated that reporting more negative interchanges within the sibling relationship was related to higher levels of anxiety regardless of sibling disability type. Lastly, sibling relationship quality moderated the relation between sibling disability type and anxiety. These findings promote greater understanding of the sibling dynamic in families with children with developmental disabilities and suggest the need for establishing more research and greater clinical evaluation in this area. Furthermore, the current study suggests that therapeutic intervention to address the sibling relationship quality within children diagnosed with ASDs and their typically-developing siblings would be beneficial in order to increase social support within the relationship as well as decrease the amount of negative interchanges within the sibling relationship. Results also suggested that decreasing the amount of negative interchanges within the sibling relationship may decrease the level of anxiety the typically-developing sibling reports.