25-06-2020 | Original Paper | Uitgave 8/2020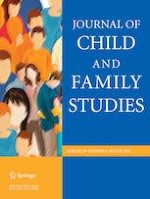 Relations of Maternal Depression and Parenting Self-Efficacy to the Self-Regulation of Infants in Low-Income Homes
Tijdschrift:
Auteurs:

Randi A. Bates, Pamela J. Salsberry, Laura M. Justice, Jaclyn M. Dynia, Jessica A. R. Logan, Mihaiela R. Gugiu, Kelly M. Purtell
Belangrijke opmerkingen
Publisher's note
Springer Nature remains neutral with regard to jurisdictional claims in published maps and institutional affiliations.
Abstract
There is increasing recognition that young children's self-regulation provides a foundation for overall wellness later in life. Yet, infants reared in poverty may exhibit less-developed self-regulation compared to their more economically-advantaged peers. Factors associated with poverty that may influence early self-regulation include maternal depression and parenting self-efficacy. However, few researchers have examined how both parenting self-efficacy and maternal depression may affect young children's self-regulation. The purpose of this study was to investigate the associations among maternal depression, parenting self-efficacy, and infant self-regulation for a racially diverse sample of 142 mother–infant dyads living in low-income households in the United States. Maternal depressive symptomatology was determined with the Edinburgh Postnatal Depressive Scale. Parenting self-efficacy was determined with a self-report measure, reflecting caregivers' mindset or feelings reflecting competency as a parent of an infant. Infant self-regulation was measured by parental report of the Infant Behavior Questionnaire Short Form Effortful Control subscale. While maternal depressive symptomatology and self-efficacy were directly and significantly correlated with infant self-regulation, results of a mediation model suggested that parenting self-efficacy mediated the relationship between maternal depressive symptomatology and infant self-regulation. Lower maternal depressive symptomatology predicted better parenting self-efficacy, in turn predicting better infant self-regulation. This study increases our understanding of how early factors shape the self-regulation of infants reared in low-income homes—highlighting the potential role of targeting parenting self-efficacy for parenting interventions for mothers experiencing depressive symptoms.