01-10-2016 | Commentary | Uitgave 5/2016 Open Access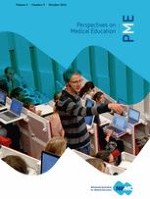 Reflection's role in learning: increasing engagement and deepening participation
Tijdschrift:
Auteur:

Karen V. Mann
The challenge facing educators now is a different one: How can reflective practice be integrated into the core of medical education? How can its development be effectively scaffolded and structured?
The findings of this pilot study both offer interesting insights and raise questions about how reflection may enhance learning. A practical consideration is the feasibility of frequent reflection as an educational activity. As the authors note, and others have shown, feedback on reflection is an essential component of the learning that results. Providing such feedback requires the commitment of faculty teachers; it also requires faculty development and support to enhance the likelihood that feedback will lead to improved ability to reflect, and beyond the current experiences.
The relationship between reflection-on-action and reflection-in-action is also noteworthy. Larsen et al.'s findings support that students may find themselves being more aware in the moment, as a means of preparing for and gathering data for their later reflection-on-action. Whether or how reflection-on-action stimulates reflection-in-action or situational awareness is as yet unclear. It seems that these are two separate types of reflection, and with different purposes. Reflection-in-action suggests that adjustments are made in the moment, whereas reflection-on action may lead to adjustments to future learning and actions. This seems an area for further exploration.