01-10-2010 | Onderzoek | Uitgave 10/2010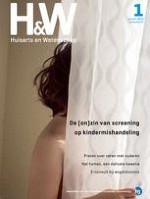 Redenen om laboratoriumdiagnostiek aan te vragen en interpretatie van de uitslagen
Tijdschrift:
Auteurs:

Paul Houben, Trudy van der Weijden, Bjorn Winkens, Renée Vossen, André Naus, Ron Winkens, Richard Grol
Belangrijke opmerkingen
Universiteit Maastricht, School CAPHRI, afdeling Huisartsgeneeskunde, Postbus 616, 6200 MD Maastricht: dr. P.H.H. Houben, huisarts-docent; dr. T. van der Weijden, senior onderzoeker. Afdeling Methodologie en statistiek: dr. B. Winkens, statisticus. Maasland Ziekenhuis, Sittard: dr. R.C. Vossen, klinisch-chemicus. Laurentius Ziekenhuis, Roermond: dr. A.J. Naus, klinisch-chemicus. Academisch Ziekenhuis Maastricht, RVE Transmurale zorg: dr. R.A.G. Winkens, huisarts. Radboud Universiteit, Scientific Institute for Quality of Health Care, Nijmegen: prof.dr. R.P.T.M. Grol, hoogleraar Kwaliteit van zorg.
Mogelijke belangenverstrengeling: niets aangegeven.
Dit artikel is een samenvatting van twee artikelen, gepubliceerd als: Houben PH, Van der Weijden T, Winkens B, Winkens RA, Grol RP. Pretest expectations strongly influence interpretation of abnormal laboratory results and further management. BMC Fam Pract 2010;11:13; Houben PH, Winkens RA, Van der Weijden T, Vossen RC, Naus AJ, Grol RP. Reasons for ordering laboratory tests and relationship with frequency of abnormal results. Scand J Prim Health Care 2010;28:18-23. Publicatie gebeurt met toestemming van de uitgevers.
Samenvatting
Houben PHH, Van der Weijden T, Winkens B, Vossen RC, Naus AJ, Winkens RAG, Grol RPTM. Redenen om laboratoriumdiagnostiek aan te vragen en interpretatie van de uitslagen. Huisarts Wet 2010;53(10):524-8.
Achtergrond
Huisartsen vragen vaak laboratoriumdiagnostiek aan om de patiënt gerust te stellen of om ziekte uit te sluiten. Als de laboratoriumuitslagen dan toch afwijkend zijn, kan het moeilijk zijn ze te interpreteren. We onderzochten daarom hoe vaak het voorkomt dat laboratoriumuitslagen een (geringe of forse) afwijking vertonen, en hoe de huisarts die uitslagen vervolgens interpreteert.
Methoden
Ons onderzoek had een prospectieve opzet. Wij vroegen aan 87 huisartsen om ieder voor 25 opeenvolgende patiënten een vragenlijst in te vullen wanneer ze laboratoriumonderzoek aanvroegen en wanneer ze de uitslag ontvingen. De huisartsen moesten aangeven waarom zij het onderzoek aanvroegen, hoe groot zij de pretestkans en posttestkans op ziekte inschatten, hoe zij de uitslagen interpreteerden en wat hun verdere beleid was.
Resultaten
De huisartsen vroegen laboratoriumonderzoek aan voor 1775 patiënten. Achtenvijftig procent van de aanvragen had tot doel ziekte uit te sluiten of de patiënt gerust te stellen. Bij meer dan de helft van de patiënten was minstens één test afwijkend, en bij ruim één op de tien patiënten betrof het een forse afwijking. De huisartsen interpreteerden de helft van alle afwijkingen als normaal.
Conclusie
Huisartsen moeten zorgvuldig overwegen of laboratoriumonderzoek ter uitsluiting van ziekte wel noodzakelijk is, omdat zij een gering afwijkende uitslag vaak toch als normaal interpreteren. Ook grotere afwijkingen komen regelmatig voor, zonder dat duidelijk is wat dat betekent voor de morbiditeit van de patiënt. Dit laatste zou verder onderzocht moeten worden.