2014 | OriginalPaper | Hoofdstuk
11. Recurrent and founder mutations in the Netherlands – Phospholamban p.Arg14del mutation causes arrhythmogenic cardiomyopathy*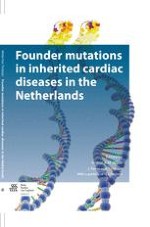 eerste hoofdstuk lezen
Auteurs: P. A. van der Zwaag, I. A. W. van Rijsingen, R. de Ruiter, E. A. Nannenberg, J. A. Groeneweg, J. G. Post, R. N. W. Hauer, I. C. van Gelder, M. P. van den Berg, P. van der Harst, A. A. M. Wilde, J. P. van Tintelen
Uitgeverij: Bohn Stafleu van Loghum
Samenvatting
Background
Recently, we showed that the c.40_42delAGA (p.Arg14del) mutation in the phospholamban (PLN) gene can be identified in 10–15 % of Dutch patients with dilated cardiomyopathy or arrhythmogenic cardiomyopathy. The arrhythmogenic burden of the p.Arg14del mutation was illustrated by the high rate of appropriate ICD discharges and a positive family history for sudden cardiac death.
Methods
Our goal was to evaluate the geographical distribution and the origin of this specific mutation in the Netherlands and to get an estimation of the prevalence in a Dutch population cohort. Therefore, we investigated the postal codes of the places of residence of PLN p.Arg14del mutation carriers and places of birth of their ancestors. In addition, a large population-based cohort (PREVEND) was screened for the presence of this mutation.
Results
By April 2012, we had identified 101 probands carrying the PLN p.Arg14del mutation. A total of 358 family members were also found to carry this mutation, resulting in a total of 459 mutation carriers. The majority of mutation carriers live in the northern part of the Netherlands and analysing their grandparents' places of birth indicated that the mutation likely originated in the eastern part of the province of Friesland. In the PREVEND cohort we identified six heterozygous PLN p.Arg14del mutation carriers out of 8,267 subjects (0.07 %).
Conclusion
The p.Arg14del mutation in the PLN gene is the most frequently identified mutation in Dutch cardiomyopathy patients. The mutation that arose 575–825 years ago is likely to have originated from the eastern part of the province of Friesland and is highly prevalent in the general population in the northern part of the Netherlands.