09-03-2016 | Original Paper | Uitgave 6/2016 Open Access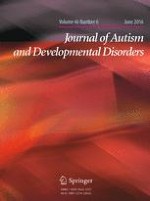 Reasoning on the Autism Spectrum: A Dual Process Theory Account
Tijdschrift:
Auteurs:

Mark Brosnan, Marcus Lewton, Chris Ashwin
Introduction
The aim of the present research was to investigate intuitive and deliberative reasoning across two studies that focus on the autism spectrum; one involving a non-clinical sample, and the other involving a clinical sample. As a continuum of autism traits is proposed to extend throughout the (general and ASD) population, the relationship with reasoning was examined in relation to relatively higher and lower levels of autism traits. In the non-clinical sample it was predicted that higher levels of autism traits would relate to a profile characterised by greater deliberative and reduced intuitive reasoning. Study 2 compared self-report and behavioural measures of intuitive and deliberative reasoning between people with and without ASD, and it was predicted that the ASD group would show a more deliberative and less intuitive profile than the comparison group.
Study 1
Methods
Participants
Participants were 95 undergraduate students from a range of disciplines (43 male, 52 female) aged 18–31 years old (mean = 21.0, SD = 4.01, see Table
1
) recruited at the University of Bath. All participants were native English speakers, and no participant reported a diagnosis of a mental health condition. Participants were rewarded with either course credit for their participation or received £5.00. The research was approved by the Psychology Departmental Research Ethics Committee at the University of Bath, which implements the ethical guidelines of the British Psychological Society.
Table 1
Mean scores for age, autism traits (AQ) and reasoning (
n
= 95)
| Measure | Mean (SD) | Min | Max | | |
| --- | --- | --- | --- | --- | --- |
| Age | 21.00 (4.01) | 18.00 | 31.00 | 21.14 (3.97) | 20.21 (3.02) |
| Total AQ | 20.00 (11.53) | 4.00 | 45.00 | 18.60 (11.59) | 19.35 (9.44) |
| Mean intuition | 3.20 (.62) | 1.75 | 4.10 | 3.15 (.70) | 3.23 (.56) |
| Mean deliberation | 3.51 (.61) | 1.80 | 4.85 | 3.60 (.53) | 3.44 (.66) |
Procedure
Autism traits were assessed using the AQ (Baron-Cohen et al.
2001a
,
b
), which is a self-report measurement that is used to identify autism traits in clinical and non-clinical adult populations. Participants rated their level of agreement with 50 items (e.g. "I enjoy doing things spontaneously") on a 4-point Likert scale ranging from 0 ('definitely disagree') to 4 (definitely agree). A response in the direction of autism characteristics is scored as 1, while a response in the opposite direction is scored as 0. This results in scores ranging from 0 to 50. The AQ in the present study had a high level of internal consistency, with a Cronbach's alpha of .88.
Reasoning processes were assessed using the Rational Experiential Inventory (REI; Pacini and Epstein
1999
). The REI measures a participant's preference for both intuitive (experiential) and deliberative (rational) reasoning. The REI is a 40 item questionnaire, containing 20 items that assess intuitive reasoning and 20 items that assess deliberative reasoning. Examples from the intuitive scale include, "I trust my initial feelings about people" and "I often go on my instincts when deciding on a course of action". Examples of items from the rational scale include, "I have a logical mind" and "I enjoy solving problems that require hard thinking". Respondents score each item on a 5-point scale, from 1 = completely false to 5 = completely true. Mean scores for each subscale can therefore range from 1 to 5 for each reasoning style. In the present study the Cronbach's alpha for the experiential-intuitive scale was .91, and for the rational-deliberative scale it was .88.
Results
The total scores for AQ, intuition and deliberation are displayed in Table
1
. There were no significant sex differences for self-reported autism traits, intuition or deliberation (all
p
> .05). Following Freeman et al. (
2012
), a median-spilt method was used across both intuitive and deliberative scores to divide the participants into one of four groups: namely (1) high intuition/high deliberation; (2) low intuition/low deliberation; (3) high intuition/low deliberation; or (4) low intuition/high deliberation. (Freeman et al.
2012
). The numbers of males and females in each group were: (1) 9:11; (2) 9:14; (3) 13:14; and (4) 12:13; which did not differ significantly (chi = .516,
p
≥ .05).
A one-way ANOVA revealed that the high deliberation/low intuition group had a significantly higher AQ total than the low deliberation/high intuition group (
F
(3, 91) = 19.87,
p
< .01; all other comparisons
p
> .05; see Fig.
1
).
×
Discussion of Study 1
Study 1 examined the extent to which autism traits in a non-clinical population were associated with self-reported preferences for more deliberative over intuitive reasoning. Results found higher autism traits in those with a profile consisting of low intuitive and high deliberative reasoning, compared to those with a high intuitive and low deliberative profile of reasoning. Those with comparable levels of self-reported intuitive and deliberative reasoning, whether the levels were both high or low, did not differ from each other in their levels of autism traits. Consistent with the hypothesis, higher autism traits were associated with a combination of greater deliberative and less intuitive reasoning styles. This is consistent with the clinical literature, where ASD is associated with a more logical and circumspect reasoning bias (Brosnan et al.
2014a
; De Martino et al.
2008
).
Interestingly, the present findings are the opposite results to that reported by Freeman et al. (
2012
) for schizotypy traits in the general population, where higher levels of schizotypy traits were associated with high levels of intuition combined with low levels of deliberation. This opposing reasoning profile is consistent with the diametrical model of Crespi and Badcock (
2008
), who propose that ASD and schizotypy represent opposing poles of a cognitive continuum. Thus a bias towards deliberative reasoning and away from intuitive reasoning may characterise reasoning associated with higher autism traits (with the opposite pattern characteristic of higher schizotypy traits). Whilst this analysis is useful for comparative purposes, it is not intended to reify these groupings. Figure
1
highlights that the two reasoning style combinations containing high intuition were associated with the lower levels of autism traits and the two reasoning style combinations containing low intuition were associated with higher levels of autism traits. Study 1 therefore provided initial support for autism traits within the general population being relevant to Dual Process Theory. However, the REI provides a self-reported reasoning preference rather than an assessment of reasoning behaviour, although previous research has suggested a correlation between the two (Liberali et al.
2012
; Pennycook et al.
2015
; Thoma et al.
2015
). Study Two extended the investigation to a clinical population with Autism Spectrum Disorder and included a behavioural measure of intuition and deliberation, the CRT (Frederick
2005
).
Study 2
Methods
Participants
Participants were 17 males with ASD and 18 typically developing (TD) males without ASD who served as the comparison group. The ASD group had a mean age of 18.4 years (range 17–21; SD = 1.3) and the TD group had a mean age of 19.5 years (range 16–21; SD = 1.9; the difference in age between groups did not reach statistical significance (
t
(31) = 1.94, ns; see Table
2
). The research was approved by the Psychology Departmental Research Ethics Committee at the University of Bath which implements the ethical guidelines of the British Psychological Society.
Table 2
Means (and SD) for ASD and TD groups for demographics and dual process self-report and behavioural measures
Demographics and variables

Group

Age

18.4 (1.3)

19.5 (1.9)

1.94

CRT-intuition

.71 (.92)

1.41 (1.1)

2.07*

.69 [.00–1.40]

CRT-deliberation

2.00 (.87)

1.12 (.99)

2.76**

.94 [.24–1.52]

REI-intuition

2.84 (.89)

3.80 (.53)

3.67***

1.40 [.42–1.50]

REI-deliberation

4.09 (.70)

3.63 (.71)

1.70

.65 [−.09 to 1.01]
The ASD Group comprised of participants attending a University Summer School for students on the autism spectrum focussed on providing an insight into university life. On application to the summer school, students provided evidence of clinic diagnosis of ASD using international criteria (DSM-IV, APA
1994
; ICD-10, WHO
1992
) by a qualified professional. ASD diagnosis was then confirmed using the Social Communication Questionnaire (SCQ-Lifetime; Rutter et al.
2003
), a 40 item parent report measure. The SCQ is a dimensional measure of ASD symptomatology, with a sensitivity of .92 and specificity of .62 (Witwer and LeCavalier
2008
). In addition, the Ritvo Autism Asperger Diagnostic Scale-Revised (RAADS-r; Ritvo et al.
2011
) was also utilised, which is an 80 item self-report measure assessing four symptom areas: language, social relatedness, sensory-motor, circumscribed interests. The RAADS-r has a sensitivity of .97 and specificity of 1 (Ritvo et al.
2011
). Scores on both measures were significantly above the clinical cut-offs (Mean SCQ score = 19.75, SD = 5.07, range 11–27;
t
(15) = 3.75,
p
= .002; and mean RAADS-R score = 113, SD = 21.77, range 65–140;
t
(16) = 9.09,
p
< .001). The TD group was an opportunity sample of male students commencing their first year at the same university. TD participants completed the AQ10, which is a ten item version of the AQ which can be used for screening purposes. A cut off of 6 or greater indicates a referral to diagnostic services may be appropriate (Allison et al.
2012
). Scores ranged from 0 to 4, with a mean of 2.1 (SD = 1.1) indicating the TD group did not have a screening score warranting investigation for an ASD.
Procedure
The Rational-Experiential Inventory-Short (REI-S: Epstein et al.
1996
) was developed as a short version of the questionnaire used in Study One which contains 10 items, equally divided between intuitive and deliberative subscales. The short version was used as time was limited at the Autism Summer School, however 6 members of the ASD group still did not complete the REI-S.
The Cognitive Reflection Task (CRT: Frederick
2005
) is a widely used 3-item performance measure of intuition and deliberation. Each question has a potentially intuitive and deliberative answer, as well as the potential for wrong answers. Scores can therefore range from 0 to 3 for each subscale. (Note, the intuitive response is a wrong answer). An example item is: 'A bat and ball cost £1.10 in total. The bat costs £1 more than the ball. How much does the ball cost?' The intuitive answer is 10 pence (cents in USA version) and the deliberative answer (which is correct) is 5 pence. All other responses are considered wrong. Planned
t
tests compared between group differences on the REI and CRT, in addition to one-sample
t
tests comparing the CRT to expected means.
Results
The means for each group are highlighted in Table
2
. Independent-samples
t
tests showed that the ASD group provided more deliberative and less intuitive responses than the TD group on the behavioural CRT measure (see Fig.
2
). Cohen's
d
analysis indicated medium to large e effect sizes. Since a mean of 1.5 represents the middle neutral point of responding between intuitive and deliberative responses on the CRT, one-sample
t
tests were carried out for the CRT scores of each group to see if they were significantly responding towards one style or the other. Results highlighted that the TD group means did not significantly differ from the middle neutral value (both
p
> .05). For the ASD group, both the number of intuitive (
t
(16) = 3.56,
p
< .01) and deliberative responses (
t
(16) = 2.38,
p
< .05) differed from the middle value 1.5; see Fig.
2
). 8 incorrect responses were provided by the TD group and 5 by the ASD group which were not analysed (this number did not significantly differ between groups (
t
(32) = .93, ns).
×
Further
t
tests also showed the ASD group self-reported significantly lower levels of intuition than the TD group using the REI (
t
(27) = 3.67,
p
< .001). There was also a trend for the ASD group to self-report higher levels of deliberation than the TD group (
t
(27) = 1.7,
p
< .1), see Fig.
3
.
×
Discussion of Study 2
Study 2 demonstrated, for the first time, that young male adults with ASD responded on the CRT in a less intuitive and more deliberative manner. The task is not purely ipsative as it is also possible to make errors. However, providing an intuitive answer does necessitate that a deliberative answer is not provided. The REI (short) is not ipsative (in that one could self-report being high in both), and again lower intuition was evidenced in the ASD group along with a trend towards higher deliberation. Taken together, the data are consistent with a Dual Process Theory account of ASD as a bias away from intuitive reasoning and towards deliberative reasoning (Brosnan et al.
2014a
; De Martino et al.
2008
). The term 'bias' is appropriate as those with ASD tended to respond intuitively half as often as TD participants and respond deliberatively twice as often as TD participants. This is clearly different to
only
responding in a deliberative manner. It may suggest intuitive processes can be employed by those with ASD, though just not as frequently or easily as TD participants. Dual Process Theory proposes that intuitive processes represent default responses unless intervened upon by deliberative processes (Evans and Stanovich
2013
). De Martino et al. (
2008
) hypothesise that a logical reasoning bias in ASD is attributable to impairment within the intuitive reasoning mechanisms and the evidence of limited intuitive responding by those with ASD in the present study is consistent with this.
General Discussion
Acknowledgments
The second author led on Study One as part of his doctoral studies.
Author Contributions
All authors contributed to the design analysis and writing of the paper. The second author led on Study One as part of his doctoral studies.
Compliance with Ethical Standards
Conflicts of interest
None.
Open Access
This article is distributed under the terms of the Creative Commons Attribution 4.0 International License (
http://​creativecommons.​org/​licenses/​by/​4.​0/​
), which permits unrestricted use, distribution, and reproduction in any medium, provided you give appropriate credit to the original author(s) and the source, provide a link to the Creative Commons license, and indicate if changes were made.
Footnotes
1
We thank an anonymous reviewer for highlighting this point.