27-01-2021 | Original Paper | Uitgave 11/2021 Open Access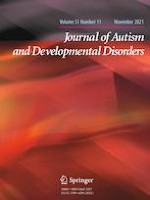 Real-World Experiences in Autistic Adult Diagnostic Services and Post-diagnostic Support and Alignment with Services Guidelines: Results from the ASDEU Study
Tijdschrift:
Auteurs:

Maria Luisa Scattoni, Martina Micai, Antonio Ciaramella, Tommaso Salvitti, Francesca Fulceri, Laura Maria Fatta, Luise Poustka, Robert Diehm, Georgi Iskrov, Rumen Stefanov, Quentin Guillon, Bernadette Rogé, Anthony Staines, Mary Rose Sweeney, Andrew Martin Boilson, Thora Leósdóttir, Evald Saemundsen, Irma Moilanen, Hanna Ebeling, Anneli Yliherva, Mika Gissler, Tarja Parviainen, Pekka Tani, Rafal Kawa, Astrid Vicente, Célia Rasga, Magdalena Budişteanu, Ian Dale, Carol Povey, Noelia Flores, Cristina Jenaro, Maria Luisa Monroy, Patricia García Primo, Tony Charman, Susanne Cramer, Christine Kloster Warberg, Ricardo Canal-Bedia, Manuel Posada, Diana Schendel
Belangrijke opmerkingen
Supplementary Information
Publisher's Note
Springer Nature remains neutral with regard to jurisdictional claims in published maps and institutional affiliations.
Abstract
Research providing an evidence-base for autistic adult services is sparse. The Autism Spectrum Disorders in the European Union (ASDEU) network implemented an on-line survey to determine gaps in autistic adult diagnostic evaluation and post-diagnostic support services. More than 55% in all groups experienced most of the recommended features for diagnostic evaluation for autistic adults. In contrast, < 2% of adults or carers, and < 21% of professionals experienced each of the recommended features for post-diagnostic support. In contrast to 61% of professionals, only about 30% of autistic adults and carers had knowledge of good local services models for autism diagnosis in adulthood. There are major differences between good practice guidelines for diagnostic and post-diagnostic care for autistic adults, and what is actually experienced by services users and professionals.