01-03-2009 | Uitgave 1/2009 Open Access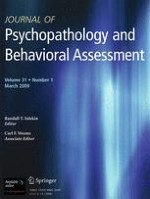 Reactive and Regulative Temperament in Youths: Psychometric Evaluation of the Early Adolescent Temperament Questionnaire-Revised
Auteurs:

Peter Muris, Cor Meesters
Belangrijke opmerkingen
Peter Muris, Institute of Psychology, Erasmus University Rotterdam, and Cor Meesters, Department of Clinical Psychological Science, Maastricht University, The Netherlands. Pim Blijlevens, Dorrette Driesen, Hinke Hiemsta, Maudi van Hoften, Lotte Vermeulen, and Sylvia Wessels are kindly acknowledged for their assistance with the data collection.
This article describes an investigation of the psychometric properties of a self-report questionnaire for measuring children's temperament. The theoretical foundation for this scale, the Early Adolescent Temperament Questionnaire-Revised (EATQ-R), was laid by Mary Rothbart and her colleagues who have defined temperament as individual differences in reactivity and self-regulation (Rothbart and Derryberry
1981
), with reactivity referring to the excitability, responsivity, or arousability of the behavioral and physiological systems of an organism, and self-regulation pertaining to neural and behavioral processes that function to modulate this underlying reactivity. In the past decade, the contours of this temperamental model have gradually crystallized (Rothbart
1989
; Rothbart and Bates
1998
,
2006
; Rothbart et al.
1994
,
2000
,
2006
), and not surprisingly this has led to the application of the model in various developmental contexts (e.g., Eisenberg et al.
2004b
; Muris and Ollendick
2005
; Nigg
2006
).
At a more general level, temperament can be defined as "biologically rooted individual differences in behavior tendencies that are present early in life and are relatively stable across various kinds of situations and over the course of time" (Bates
1987
; p. 1101). The difference between temperament and personality is rather vague. Temperament is viewed as the part of personality that is genetically determined, and is considered as the observable manifestation of the child's emerging personality (Matthews et al.
2003
). Empirical evidence for the relation between temperament and personality has been provided by Caspi and colleagues (Caspi
2000
; Caspi et al.
2003
; Caspi and Silva
1995
) who followed three temperament groups of young children in their development to adulthood. Children who at 3 years of age had been classified as undercontrolled and overcontrolled still showed signs of these temperament categories at age 26, whereas children who had been classified as well-adjusted when they were young, still represented the normative group in adulthood. Although the links between childhood temperament and adult personality were at best modest, this study demonstrates that there is reasonable stability in individuals' behavioral characteristics over long time periods. Furthermore, it is increasingly acknowledged that at various ages temperament plays a critical role in youths' social and emotional functioning, and more specifically in the development of psychopathological syndromes (Muris and Ollendick
2005
; Nigg
2006
).
Many blueprints have been hypothesized for the structure of temperament in children. A frequently cited framework is the one formulated early on by Chess and Thomas (
1985
; see also Thomas and Chess
1977
) who identified three fundamental temperament types, namely 'easy', 'difficult', and 'slow-to-warm-up', which all reflect clear variations in the type and intensity of children's responses to stimuli in the environment. Other descriptive frameworks for children's temperament have adopted a more dimensional approach, and have aimed at identifying basic temperamental traits. A good example of such an approach is Buss and Plomin's (
1984
) Emotionality–Activity–Sociability (EAS) model. The first dimension of 'emotionality' refers to psychological instability and a proneness to experience feelings of fear, anger, and sadness, the second dimension of 'activity' is concerned with characteristics such as tempo, vigor, and endurance, while the third and final dimension is 'sociability', which pertains to traits such as tendencies to affiliate and to be responsive to others. Interestingly, a comparison of the EAS model with current theories of personality such as the 'Big Five' (Costa and McCrae
1992
) and the 'Giant Three' (Eysenck
1991
) makes clear that the three temperament dimensions are clearly linked to the personality factors of 'neuroticism' and 'extraversion'. That is, neuroticism can be viewed as an equivalent for emotionality, whereas extraversion can be regarded as a mixture of activity level and sociability.
The aforementioned temperament theory of Rothbart (Putnam et al.
2002
; Rothbart and Bates
1998
) proposes that temperament not only consists of reactive characteristics pertaining to the basis dimensions of emotionality, activity, and sociability, but also contains regulative features that can be subsumed under the concept of 'effortful control'. Effortful control refers to self-regulative processes and can best be defined as "the ability to inhibit a dominant response to perform a subdominant response" (Rothbart and Bates
1998
). The idea is that effortful control enables children to regulate emotions and to control their behavior, which may have positive effects on their social interactions with other children (Eisenberg et al.
2004a
; Fabes et al.
1999
; Guthrie et al.
1997
; Kochanska
1997
). In children with low levels of effortful control such normal processes can be disturbed and this may increase their vulnerability to develop psychopathological symptoms (see for reviews Muris and Ollendick
2005
; Nigg
2006
).
To measure the full range of temperament traits as proposed in Rothbart's theory, various parent-rating scales have been developed that can be employed in children of various ages (Garnstein and Rothbart
2003
; Rothbart
1981
; Rothbart et al.
2001
; Putnam and Rothbart
2006
; Putnam et al.
2006
). The EATQ-R (Ellis and Rothbart
2001
) has been specifically developed to measure these reactive and regulative temperament factors from the child's point-of view. Such a self-report scale seems an important addition to the instruments for measuring temperament in youths, as self-description is generally regarded as an important source of information in the field of personality research (Carver and Scheier
1996
). The EATQ-R is a revised and updated version of the EATQ (Capaldi and Rothbart
1992
) and can be used in children and adolescents aged between 9 and 15 years (Ellis and Rothbart
2001
). The full questionnaire consists of 11 scales for measuring various aspects of temperament, and two additional scales for assessing symptoms of aggression and depression among youths. Although researchers increasingly use the EATQ-R for measuring youths' temperament (e.g., Muris et al.
2007
; Oldehinkel et al.
2004
; Van Brakel and Muris
2006
; Veenstra et al.
2006
), a comprehensive study evaluating the reliability and validity of the self-report version of this scale is currently missing in the literature.
With this in mind, the current investigation was set-up. The EATQ-R was administered to a large sample of children and adolescents (
N 
= 1,055) in order to study the following issues: (1) The structure of the questionnaire was explored by means of a principal components analysis; (2) The reliability (i.e., internal consistency and test–retest stability) of various EATQ-R temperament scales was examined; (3) The parent–child agreement of the scale was investigated; and (4) The validity of the EATQ-R temperament scales was established by studying its associations with measures of personality and psychopathology. The relation with personality was examined by studying associations between EATQ-R scales and Gray's (
1991
) biologically determined personality factors that are thought to reflect the activity of brain systems that serve to regulate withdrawal and approach behavior in response to environmental stimuli [i.e., the behavioral inhibition system (BIS) and the behavioral activation system (BAS)], and Kagan's (
1994
) temperament-based individual difference variable of "behavioral inhibition to the unfamiliar" that can be defined as the tendency to exhibit fearfulness, restraint, and withdrawal in the face of novel events or situations, including unfamiliar rooms, toys, peers, and adults (which may be intimately related to or even overlapping with Gray's BIS). It was anticipated that EATQ-R scales covering aspects of emotionality would be positively associated with BIS, scales covering aspects of activity and sociability would be positively related to BAS, while EATQ-R shyness would be particularly linked to Kagan's concept of behavioral inhibition. The connection with psychopathology was investigated by studying associations between EATQ-R scales and symptom levels of internalizing (e.g., anxiety disorders, depression) and externalizing (e.g., aggression) problems. Here, it was anticipated that EATQ-R scales pertaining to emotionality would be positively related to symptoms of internalizing and externalizing, whereas EATQ-R scales referring to effortful control would be negatively related to such symptoms.
Method
Participants
One-thousand-and-fifty-five children and young adolescents (528 boys and 527 girls) were recruited from 17 regular primary and secondary schools in the eastern part of Belgium and the southern and western parts of the Netherlands. Children's ages ranged between 8 and 14 years (mean age = 11.06 years, SD = 1.00). More precisely, the sample consisted of 1 (0.1%) 8-year-old, 49 (4.6%) 9-year-olds, 252 (23.9%) 10-year-olds, 425 (40.3%) 11-year-olds, 237 (22.5%) 12-year-olds, 90 (8.5%) 13-year-olds, and 1 (0.1%) 14-year-old. The research project was officially approved by the Ethical Committee of Psychological Research of Erasmus University. Written informed consent was obtained from parents who indicated that (1) they had no objection that their child participated in the study, (2) their child was willing to take part in the study, and (3) in case parent scales were included in the study, they agreed to fill out such measures. Due to school constraints, no exact information about the socioeconomic background of the youths was available. However, almost 15% was non-Caucasian, which in The Netherlands and Belgium is generally indicative for a lower socioeconomic status.
Questionnaires
The parent version of the EATQ-R is identical to the self-report version except for the fact that items are rephrased in terms of the parents' perspective. Examples are "My child worries about getting into trouble", "My child enjoys going to places where there are big crowds and lots of excitement", and "It is easy for my child to really concentrate on homework problems".
All the questionnaires were in Dutch and in case they were derived from English scales carefully translated following a translation/back-translation procedure. As can be seen from the references above, scales have been tested extensively in Dutch samples, and this research has generally provided support for the equivalence of the Dutch and English versions. In passing, it should be noted that, with few exceptions, most scales that were employed in the present study displayed adequate internal consistency. More precisely, Cronbach's alphas were 0.75 for BIS and 0.80 for BAS, 0.72 for the scale measuring Kagan's concept of behavioral inhibition, 0.55 for RCADS depression and 0.87 for RCADS anxiety, 0.88 for CRA total aggression, and varied between 0.41 (peer problems) and 0.70 (hyperactivity-inattention) for the SDQ subscales.
Procedure
Children and adolescents completed the EATQ-R and other questionnaires in their classrooms at school. Prior to the assessment session, information was given about the study after children were explicitly asked whether they still agreed to participate. None of the youths declined from participation. While completing various questionnaires, a research assistant and the teacher were always present to ensure confidential and independent responding, and to provide assistance to the children if necessary.
A subsample of children's parents received the EATQ-R by mail after they had responded favorably to mailed invitation. They completed the questionnaire at home and then returned it to the researchers in a sealed envelope.
The total sample of 1,055 children and adolescents was used for examining the internal consistency reliability and factor structure of the EATQ-R. Subsets of the sample were involved in specific aspects of the study such as the collection of the test–retest data (8-weeks interval) and the validity of the self-report version of the EATQ-R through its relations with the parent version of this scale and other questionnaires. The rationale for deriving subsamples was twofold: First, some of the schools only consented to spend a limited amount of time to the research project, and second, the inclusion of all scales would have yielded a rather lengthy survey, which probably would have undermined children's dedication. The test–retest sample contained 101 children (46 boys and 55 girls) with a mean age of 10.48 years (SD = 1.07). Three further subsamples were used to examine the parent–child agreement of the EATQ-R and its relationship to measures of psychopathology (
N 
= 390; 191 boys and 199 girls; mean age = 10.90, SD = 0.69) and personality (BIS/BAS scales:
N 
= 240; 120 boys and 120 girls; mean age = 11.57, SD = 1.48; Behavioral inhibition:
N 
= 108; 49 boys and 59 girls; mean age = 10.47, SD = 1.08). There were no significant gender differences among the four subsamples [
χ
2
(3) = 4.14,
p 
= 0.38]. However, an analysis of variance indicated that the samples did differ with regard to age [
F
(3, 1,050) = 27.14,
p
 < 0.001]: the subsample in which the relations between the EATQ-R and BIS/BAS scales were examined was significantly older than the other subsamples (all
p
s < 0.01). It is important to note that almost all data were new and specifically collected for the purpose of the present study. The only exception were the EATQ-R data obtained by Muris et al. (
2007
), which were included in the total sample for investigating the internal consistency and structure of the scale.
Results
Discussion
Open Access
This article is distributed under the terms of the Creative Commons Attribution Noncommercial License which permits any noncommercial use, distribution, and reproduction in any medium, provided the original author(s) and source are credited.
Open Access
This is an open access article distributed under the terms of the Creative Commons Attribution Noncommercial License (
https://​creativecommons.​org/​licenses/​by-nc/​2.​0
), which permits any noncommercial use, distribution, and reproduction in any medium, provided the original author(s) and source are credited.
Footnotes
1
Only the 74 items that were retained in the final EATQ-R scales (see Table
1
) were included in the principal components analysis. Except for items referring to depression and aggression, the following items were excluded: 32 and 55 (activation control), 67 and 86 (attention), 20, 71, 81, and 89 (inhibitory control), 34 (pleasure sensitivity), 8 and 29 (high intensity pleasure), and 92 (perceptual sensitivity).
2
A confirmatory factor analysis (AMOS) was also carried out to test the fit of a correlated 11-factor model in which the 74 EATQ-R items loaded on their original temperament scales. The results underlined the complexity of the scale, as the fit of this model was rather modest:
χ
2
/
df
 = 2.50, GFI = 0.84, and RMSEA = 0.04.
3
For reasons of comparison with the previous study by Ellis and Rothbart (
2001
), a second-order principal components analysis was performed that not only included EATQ-R temperament scales but also the behavioral scales of depression and aggression. This analysis also yielded three components with eigenvalues > 1.0 (i.e., 3.37, 2.04, and 1.75), which accounted for 55.05% of the variance. The components were highly similar to those obtained with the previous analysis, with aggression and depression loading on the first component that essentially consisted of emotionality and effortful control scales.