Gepubliceerd in: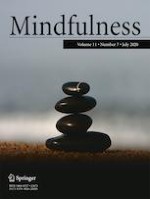 27-05-2020 | BOOK REVIEW
Randye J. Semple and Christopher Willard:
The Mindfulness Matters Program for Children and Adolescents: Strategies, Activities, and Techniques for Therapists and Teachers,

Guilford Press, New York, NY, 2019, 262 pp

Gepubliceerd in: Mindfulness | Uitgave 7/2020

Log in om toegang te krijgen
Excerpt
Stressful experiences among US youth are alarmingly common and are associated with a plethora of unfavorable outcomes such as impaired academic functioning (Suldo et al.,
2009
), executive functioning deficits (Agoston & Rudolph,
2016
), higher risk of maladaptive behaviors, and lower life satisfaction (McKnight et al.
2002
). Clearly, practices and interventions are needed to promote positivistic skills (e.g., social-emotional competencies, emotional self-regulation) to buffer against the stress faced by the children and adolescents. The scientific literature increasingly supports the utility of mindfulness-based programming (MBP) to buffer against stress by promoting positivistic attributes among children and adolescents, prompting calls for further applied research into this the utility of MBP for youth (Creswell & Lindsay,
2014
; Felver et al.,
2016
; Klingbeil et al.
2017
). …