01-10-2012 | RADIOFREQUENTE ABLATIE GECOMBINEERD MET INTERLEUKINE-2 | Uitgave 6/2012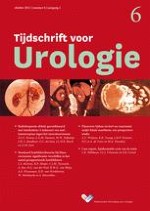 Radiofrequente ablatie gecombineerd met interleukine-2 induceert een antitumorrespons tegen het niercelcarcinoom
Tijdschrift:
Auteurs:

dr. S.G.C. Kroeze, drs. L.G.M. Daenen, dr. M.W. Nijkamp, dr. J.M. L. Roodhart, prof. dr. G.C. de Gast, prof. dr. J.L.H.R. Bosch, dr. J.J.M. Jans
Belangrijke opmerkingen
inmiddels werkzaam in het, aios heelkunde, medisch oncoloog
Samenvatting
Doelstelling:
Er is hernieuwde interesse voor immunotherapie als behandeling voor gemetastaseerd niercelcarcinoom (NCC). Deze studie had als doel te bepalen of radiofrequente ablatie (RFA) gecombineerd met interleukine-2 (IL-2) een tumorspecifieke immuunrespons kan opwekken tegen NCC.
Materiaal en methode:
Muizen met getransplanteerde niertumoren werden behandeld met een combinatietherapie van RFA en IL-2, RFA of IL-2 als monotherapie, of geen behandeling (controle). De aanwezigheid van immunogene cellen in de primaire tumor werd bepaald door middel van immunohistochemie. In vitro cytotoxiciteit assays werden uitgevoerd met CD8+ T- en natural killer (NK) cellen uit de milt van behandelde muizen. Longmetastasen werden geïnduceerd door middel van intraveneuze injectie van tumorcellen voor of na de behandeling, waarna macroscopische longmetastasen werden gekwantificeerd.
Resultaten:
NK-, CD4+ en CD8+ T-cellen waren significant frequenter aanwezig in tumorweefsel van RFA/IL-2 behandelde muizen (
p
< 0,0001). Zowel NK- als CD8+ T-cellen uit de milt van de muis gaven een sterke antitumoractiviteit in vitro na behandeling met RFA/IL-2. Behandeling met RFA/ IL-2 gaf een significante preventie van longmetastasen (
p
< 0,0001). Bestaande longmetastasen waren kleiner in muizen die waren behandeld met RFA/IL-2 (
p
= 0,025) ten opzichtevan muizen die waren behandeld met IL-2.
Conclusie:
RFA van de primaire niertumor gecombineerd met IL-2 induceert een antitumoreffect tegen NCC dat veel sterker is dan het effect van IL-2 als monotherapie. Zowel NKals CD8+ T-cellen lijken een belangrijke rol te spelen bij dit effect. Deze therapie kan een belangrijke rol spelen in de ontwikkeling van nieuwe immunotherapeutische behandelingen voor NCC.