01-12-2011 | Research | Uitgave 1/2011 Open Access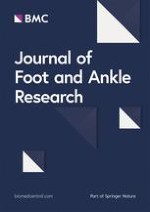 Quantitative analysis of residual protein contamination of podiatry instruments reprocessed through local and central decontamination units
Tijdschrift:
Auteurs:

Gordon WG Smith, Frank Goldie, Steven Long, David F Lappin, Gordon Ramage, Andrew J Smith
Belangrijke opmerkingen
Electronic supplementary material
The online version of this article (doi:
10.​1186/​1757-1146-4-2
) contains supplementary material, which is available to authorized users.
Gordon WG Smith and Andrew J Smith contributed equally to this work.
Competing interests
The authors declare that they have no competing interests.
Authors' contributions
GWGS carried out the processing and the subsequent protein analysis of all the instruments and for the overall study design and for the drafting of the manuscript. FG and SL were responsible funding of the chemicals used in the study, the sourcing of the instruments from community podiatry and the CDU and for helping in drafting the manuscript. DL carried out the statistical analysis and aided in study design. GR and AJS were responsible for the overall design of the study and aided in the final drafting of the manuscript. All authors have read and approved the final manuscript.
Abstract
Background
The cleaning stage of the instrument decontamination process has come under increased scrutiny due to the increasing complexity of surgical instruments and the adverse affects of residual protein contamination on surgical instruments. Instruments used in the podiatry field have a complex surface topography and are exposed to a wide range of biological contamination. Currently, podiatry instruments are reprocessed locally within surgeries while national strategies are favouring a move toward reprocessing in central facilities. The aim of this study was to determine the efficacy of local and central reprocessing on podiatry instruments by measuring residual protein contamination of instruments reprocessed by both methods.
Methods
The residual protein of 189 instruments reprocessed centrally and 189 instruments reprocessed locally was determined using a fluorescent assay based on the reaction of proteins with o-phthaldialdehyde/sodium 2-mercaptoethanesulfonate.
Results
Residual protein was detected on 72% (n = 136) of instruments reprocessed centrally and 90% (n = 170) of instruments reprocessed locally. Significantly less protein (p < 0.001) was recovered from instruments reprocessed centrally (median 20.62 μg, range 0 - 5705 μg) than local reprocessing (median 111.9 μg, range 0 - 6344 μg).
Conclusions
Overall, the results show the superiority of central reprocessing for complex podiatry instruments when protein contamination is considered, though no significant difference was found in residual protein between local decontamination unit and central decontamination unit processes for Blacks files. Further research is needed to undertake qualitative identification of protein contamination to identify any cross contamination risks and a standard for acceptable residual protein contamination applicable to different instruments and specialities should be considered as a matter of urgency.