01-05-2011 | Uitgave 4/2011 Open Access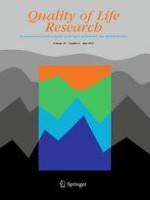 Quality of life of children with mitral valve prolapse
Tijdschrift:
Auteurs:

Izabela Janiec, Bozena Werner, Jolanta Sieminska, Ulrike Ravens-Sieberer
Abstract
Objective
The aim of our prospective study was to assess the health-related quality of life (HRQOL) of children with mitral valve prolapse (MVP) and the impact of clinical symptoms on HRQOL.
Methods
Sixty-seven patients with primary MVP aged 8–18 years were studied and compared with 31 healthy children. All children completed the polish version of KIDSCREEN-27. For searching occurrence and frequency of 18 clinical symptoms, authors' questionnaire was used.
Results
The statistically significant difference was found only for one from five searching dimensions of HRQOL—physical well-being. In the remaining studied aspects of HRQOL, no statistically significant differences were found in comparison with the healthy children. The statistically significant moderate correlation between the number and frequency of clinical symptoms and physical well-being was found.
Conclusions
In children with MVP, the lower self-assessment is observed mainly in evaluation of their health and own physical activity. The remaining studied dimensions of HRQOL are comparable with the healthy children. However, within the population of children suffering from MVP, the frequency of clinical symptoms impact upon the different HRQOL dimensions. Thus, MVP represents a heterogeneous population. Whether there are impairments of HRQOL largely depend on the severity and frequency of clinical symptoms.