14-09-2019 | Review | Uitgave 12/2019 Open Access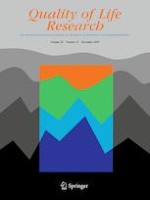 Quality of life measures in older adults after traumatic brain injury: a systematic review
Tijdschrift:
Auteurs:

Cindy Hunt, Shatabdy Zahid, Naomi Ennis, Alicja Michalak, Cheryl Masanic, Chantal Vaidyanath, Shree Bhalerao, Michael D. Cusimano, Andrew Baker
Belangrijke opmerkingen
Publisher's Note
Springer Nature remains neutral with regard to jurisdictional claims in published maps and institutional affiliations.
Background
The rate of hospitalization among older adults (≥ 65 years of age) with traumatic brain injury (TBI) has increased by 24% over the past decade [
1
]. On average, older adults with TBI are hospitalized four times as often, have longer hospital stays [
2
], and experience slower recovery trajectories and worse functional outcomes compared to younger populations with the same injury severity after TBI [
3
]. The economic cost of TBI is expected to rise from $7.3 billion in 2011 to $8.2 billion (CAD) in 2021 [
2
]. Much of what has been studied about the personal impact of TBI on older adult quality of life (Qol)—both in acute and rehabilitative care—has been based on symptom reduction or information provided by family or clinician ratings. Only recently, has the importance of the patient's perspective on Qol become a critical indicator following TBI [
4
,
5
]. Qol is conceptualized as self-reported overall contentment across different areas of life, including physical well-being, social relationships, community activities and recreation, and personal fulfillment [
6
]. Reviews with a focus on childhood TBI highlight the challenges of drawing conclusions across studies when study measures differ [
7
–
9
]. Trauma in older adult patients has been insufficiently studied [
10
]. The lack of a standard Qol measure for older adults contributes to this knowledge deficit. Implementing a common measure of Qol can help improve the care received by the older adults and increase our understanding of their unique needs.
A standardized Qol measure would assess the effectiveness of interventions [
5
,
11
]. A standardized Qol measurement for older adults post TBI could improve clinical practice, enhance health care delivery, inform health policy, and support allocation of health service funds [
12
]. Local-level [
13
] and international [
14
] TBI research has recognized the importance of using standardized measures to improve data quality and patient care. A standard QoL measure for older adults with TBI could facilitate accurate and reliable data within an individual patient care continuum and across clinical care settings, and support more rigorous research studies with metadata.
We conducted a systematic review with the aim to identify Qol measurement tools used for older adults post TBI, and examined the psychometric properties and feasibility of administration among older adults, to aid in the identification of a standardized Qol tool for this population.
Methods
The systematic literature review followed the Preferred Reporting Items for Systemic Review and Meta-Analysis (PRISMA) statement [
15
]. The study protocol was documented in PROSPERO [
16
], Registration Number: CRD42018092730.
Study eligibility criteria
The studies met the following inclusion criteria:
1.
Study participants experienced TBI of any severity (mild, moderate, severe);
2.
The study author explicitly referred to the tool as measuring Qol;
3.
The Qol measure assessed more than one domain;
4.
Evidence of at least 5 study participants that were ≥ 65 years at time of Qol assessment;
5.
If a study included adults with conditions other than TBI, data on the participants with TBI must have been examined and reported separately from other group(s).
Information sources
Search terms for the databases were first developed by the authors in consultation with an information specialist. Our population included various terms for older adults such as "aged," "pensioner," and "aged 65 years and above." We included search terms for quality of life measures such as specifying tools, health indicators, and health-related quality of life (see Appendix). The computerized search strategy was peer-reviewed by a second information specialist in accordance with PRISMA guidelines. Once approved, the search was conducted in the following databases: Medline, Embase, PubMed, CINAHL, and PsychInfo from date of inception to September 25, 2017. The search was limited to the English language. The full electronic search strategy for one database (Medline) is presented in Appendix.
Study selection
Three researchers (CH, NE, SZ) independently screened 3586 titles and abstracts against the inclusion criteria. We discussed our individual results, and disagreements were resolved through consensus. In total, 508 full texts were assessed for eligibility. After full-text review, we yielded 20 studies for quality assessment and data abstraction.
Two authors (CH, SZ) independently reviewed the included full-text studies and extracted information to a spreadsheet listing geographic location, level of care, study design, sample size, participant characteristics: sex, mean age of study participants, age range, frequency and proportion of total participants aged 65 and older, and TBI severity (mild, moderate, or severe). Data on Qol instruments was extracted from each study and recorded by name of Qol measure(s), type and number of dimensions, administrative time point(s), psychometric properties using the COSMIN guideline [
17
], and feasibility among older adults. Data were abstracted into the spreadsheet independently and disagreements were resolved through consensus.
Quality assessment of individual studies
The Downs and Black checklist [
18
] with revisions [
19
–
21
] was used to evaluate methodological quality of each study that met the criteria for quality assessment. Revisions to the Downs and Black [
18
] checklist for non-intervention studies entailed removal of items 4, 8, 13, 14, 15, 19, 21–24 inclusive, because the items were not relevant to observational studies. Item number 5 was re-valued to have potential value of 2 points if the study included socioeconomic status as a confounder among others, 1 point if it mentioned confounders but not socioeconomic status, and 0 points if it did not mention any confounders. Socioeconomic status is an important confounder to consider as it affects accessibility to services among older adults [
11
]. Item 27 which addressed statistical power and scoring was simplified from a 5-point scale to a 0 or 1 point score. One point was awarded if the study power or sample size was reported and a score of 0 was awarded where no sample size, no power calculation, or no explanation as to whether the number of subjects was appropriate for the question being asked was reported [
11
]. Higher scores on the Downs and Black checklist indicated a greater degree of methodological quality. Given the revisions, each study could achieve a maximum score of 18 points. The exception to the revisions was a single randomized clinical trial study [
22
]. As such, all items on the Downs and Black checklist were included in the quality assessment, which had a total potential score of 28 points. Inter-rater reliability measured by Cohen's Kappa = .84 between the two authors completing the quality assessment data [
23
] with disagreements resolved by discussion. Qol measures were considered if one additional publication tested the psychometrics of the specific Qol measure.
Results
Discussion
Limitations
Measuring Qol after TBI poses several significant methodological challenges. Unlike organ based diseases, where blood tests can help guide diagnosis and treatment, there are currently no rapid, definitive diagnostic test for TBI. Adding to this challenge is the fact that TBI is a group of injuries that are highly diverse by cause, severity, age, sex, symptoms, and premorbid history. The studies in this review represent a very broad spectrum of TBI care and recovery that can limit comparison and critical appraisal. In addition, there may be bias in the study sample over time as those who survive a TBI and return to the community may represent a select group of older adults with relatively fewer health problems, fewer cognitive, physical and emotional challenges, and better psychosocial support. The systematic review only included published studies in the English language. Although rigorous selection criteria were employed to ensure methodological quality and consistency, we were unable to confirm eight studies claiming the sample age range that included older adults actually meet the study criteria (> 5 adults ≥ 65 years of age).
Our purpose was to identify the Qol measures used in older adult with TBI. The literature we selected to review on validity and reliability of the nine measures using the COSMIN criteria was not a comprehensive. However, it is worth considering that there may be limited evidence on the methodological strength of these instruments in the TBI population of older adults. No content mapping of the measures was included in the review to evaluate if domains of measures cover areas of importance to individuals with TBI. In addition, our review has limited information regarding the ability of the Qol measures to detect change and interpretability of measures. Further investigation of the Qol measures using the COSMIN criteria is warranted.
Conclusions
We identified nine Qol measures that have been used in studies that included older adults with TBI. Findings based on the comparison of reliability and construct validity of the measures reported in this review suggest that no single instrument is superior to all others, for our study population. Future research in this field should include the enrollment of larger study samples of older adults. Without these future efforts, the ability to detect an optimal Qol measure will be hindered. As long as researchers and clinicians continue to use different tools to measure Qol, differences in outcomes could be a result of differences in measurement rather than understanding the unique rehabilitation needs of this population.
Acknowledgements
The authors thank David Lightfoot PhD, the St. Michael's Hospital Information Specialist.
Compliance with ethical standards
Conflict of interest
The authors declare that they have no conflict of interest.
Ethical approval
This article is a systematic review and does not contain any studies with human participants performed by any of the authors.
Informed consent
This article is a systematic literature view as such informed consent is not applicable.
Open Access
This article is distributed under the terms of the Creative Commons Attribution 4.0 International License (
http://​creativecommons.​org/​licenses/​by/​4.​0/​
), which permits unrestricted use, distribution, and reproduction in any medium, provided you give appropriate credit to the original author(s) and the source, provide a link to the Creative Commons license, and indicate if changes were made.
Appendix
Database: Ovid MEDLINE(R) In-Process and Other Non-Indexed Citations and Ovid MEDLINE(R) < 1946 to Present > Search Strategy:
| | |
| --- | --- |
| 1 | exp brain injuries/[including smaller terms: brain concussion, post concussive syndrome, brain hemorrhage, traumatic, brain injury chronic, diffuse axonal injury, pneumocephalus] (49186) |
| 2 | concuss$.ti,ab. (3817) |
| 3 | post?concussion.ti,ab. (361) |
| 4 | traumatic brain injur$.ti,ab. (18503) |
| 5 | (brain injury adj2 traum$).ti,ab. (17989) |
| 6 | tbi.ti,ab. [tbi in title or abstract only] (13096) |
| 7 | exp craniocerebral trauma/(120500) |
| 8 | head injuries, closed/(2621) |
| 9 | (head injur$ adj3 closed).ti,ab. (2226) |
| 10 | or/1-9 (128583) |
| 11 | limit 10 to ("all aged (65 and over)" or "aged (80 and over)") (19051) |
| 12 | exp aged/[includes MeSH terms 'aged 80 and over' and 'frail elderly'] (2356669) |
| 13 | advanced age$.ti,ab. (11066) |
| 14 | advancing year$.ti,ab. (154) |
| 15 | agedness.ti,ab. (4) |
| 16 | ag?ing.ti,ab. (140485) |
| 17 | elder$.ti,ab. (181430) |
| 18 | retire$.ti,ab. (13409) |
| 19 | pension$.ti,ab. (3002) |
| 20 | (old$ adj2 (age$ or patient$ or m?n or wom?n or male$ or female? or person$ or people$ or population)).ti,ab. (473217) |
| 21 | senior.ti,ab. (20069) |
| 22 | or/11-21 (2809465) |
| 23 | 10 and 22 (23542) |
| 24 | exp "Quality of Life"/(119676) |
| 25 | (quality adj2 life$).mp. [mp = title, abstract, original title, name of substance word, subject heading word, keyword heading word, protocol supplementary concept, rare disease supplementary concept, unique identifier] (199290) |
| 26 | exp adaptation, psychological/(102082) |
| 27 | attitude/(39275) |
| 28 | questionnaires/(304753) |
| 29 | exp Health Status Indicators/(201237) |
| 30 | health status inventor$.mp. (27) |
| 31 | Positive–negative evaluation.mp. (4) |
| 32 | pne.mp. (383) |
| 33 | HRQOL.ti,ab. (7595) |
| 34 | Rand 36.mp. (529) |
| 35 | SF12.mp. (160) |
| 36 | sf-36.ti,ab. (13380) |
| 37 | qol.ti,ab. (19573) |
| 38 | or/24-37 (747435) |
| 39 | 23 and 38 (1378) |
| 40 | remove duplicates from 39 (1314) |
| 41 | limit 40 to english language (1215) |
| | (1614 up-date) |
Publisher's Note
Springer Nature remains neutral with regard to jurisdictional claims in published maps and institutional affiliations.