17-01-2019 | Uitgave 5/2019 Open Access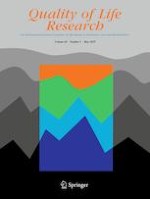 Quality of life in children and adolescents in Central Kenya: associations with emotional and behavioral problems
Tijdschrift:
Auteurs:

Dorcas N. Magai, Hans M. Koot
Belangrijke opmerkingen
Publisher's Note
Springer Nature remains neutral with regard to jurisdictional claims in published maps and institutional affiliations.
Abstract
Purpose
To assess the quality of life (QoL) of children and adolescents in Kenya as rated by parents and youth themselves, and examine how QoL is related to emotional and behavioral problems (EBP).
Method
QoL and EBP reports were obtained from 1022 Kenyan parents and 533 adolescents living in the country's Central Province. Parents with children between 6 and 18 years completed the Pediatric Quality of Life Inventory (PedsQL) and the Child Behavior Checklist, while the adolescents (12–18) completed the PedsQL and the Youth Self-Report.
Results
Parent-reported QoL in Kenyan youth was somewhat above that of US standardization samples, while levels of adolescent self-reports were well within the range of those from most high- and middle-income countries. Average adolescent girls' self-reports were lower on all QoL scales than boys. QoL in children/adolescents with clinical to borderline levels of EBP (cf. multicultural norms, Achenbach and Rescorla, 2007) was lower than QoL in agemates with normal levels of EBP. Regression analyses indicated unique associations of QoL with parent-reported withdrawn/depressed, somatic complaints, attention problems, and aggressive behavior, and with adolescent self-reported somatic complaints, attention problems, and rule-breaking behavior.
Conclusion
QoL levels were well within ranges of other countries. Moreover, associations of QoL with EBP indicated that those with borderline/clinical levels of EBP had a much lower QoL most notable for those with somatic complaints and attention problems. Mental health providers might focus on interventions that reduce EBP in Kenyan children and adolescents and simultaneously reduce the risk of lowered QoL.