01-11-2013 | Uitgave 9/2013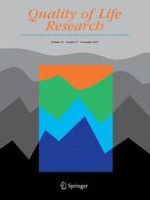 Quality of life, human insecurity, and distress among Palestinians in the Gaza Strip before and after the Winter 2008–2009 Israeli war
Tijdschrift:
Auteurs:

Weeam Hammoudeh, Dennis Hogan, Rita Giacaman
Abstract
Purpose
This study investigates changes in the quality of life (QoL) of Gaza Palestinians before and after the Israeli winter 2008–2009 war using the World Health Organization's WHOQOL-Bref; the extent to which this instrument adequately measures changing situations; and its responsiveness to locally developed human insecurity and distress measures appropriate for context.
Methods
Ordinary least squares regression analysis was performed to detect how demographic and socioeconomic variables usually associated with QoL were associated with human insecurity and distress. We estimated the usual baseline model for the three QoL domains, and a second set of models including these standard variables and human insecurity and distress to assess how personal exposure to political violence affects QoL.
Results
No difference between the quality of life scores in 2005 and 2009 was found, with results suggesting lack of sensitivity of WHOQOL-Bref in capturing changes resulting from intensification of preexisting political violence. Results show that human insecurity and individual distress significantly increased in 2009 compared to 2005.
Conclusion
Results indicate that a political domain may provide further understanding of and possibly increase the sensitivity of the instrument to detect changes in the Qol of Palestinians and possibly other populations experiencing intensified political violence.