06-03-2020 | Uitgave 8/2020 Open Access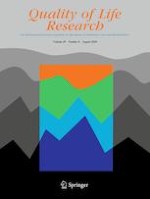 Quality of life and mental health in adolescent users of oral contraceptives. Results from the nationwide, representative German Health Interview and Examination Survey for Children and Adolescents (KiGGS)
Tijdschrift:
Auteurs:

Sabina Klara Lewandowski, Gunnar Duttge, Thomas Meyer
Belangrijke opmerkingen
Publisher's Note
Springer Nature remains neutral with regard to jurisdictional claims in published maps and institutional affiliations.
Abstract
Objective
Using data from the nationwide, cross-sectional KiGGS (German Health Interview and Examination Survey for Children and Adolescents) study, we investigated whether hormonal contraception in adolescents aged 15 to 17 years was linked to health-related quality of life and mental health problems.
Methods
Study participants had undergone standardized recordings of blood pressure and measurements of serum 25-hydroxyvitamin D [25(OH)D]. Quality of life was assessed by self- and parent-rated KINDL-R questionnaires, whereas mental health problems were screened by means of the Strengths and Difficulties Questionnaire (SDQ).
Results
Self-rated quality of life was similar between users (
n
 = 522) and non-users (
n
 = 1173, 69.2%) of oral contraceptives (69.2 ± 11.2 vs. 69.2 ± 11.0,
p
 = 0.943), as was the parent-rated version (72.9 ± 10.6 vs. 72.9 ± 10.5,
p
 = 0.985). Likewise, no significant differences were observed between the two groups with respect to both self- (10.9 ± 4.4 vs. 10.8 ± 4.6,
p
 = 0.732) and parent-rated SDQ scores (7.2 ± 4.8 vs. 7.0 ± 4.6.
p
 = 0.390). However, serum 25(OH)D (59.5 ± 32.9 vs. 46.1 ± 28.0 nmol/L,
p
 < 0.001) and mean arterial blood pressure (88.2 ± 7.4 vs. 86.5 ± 7.7 mmHg,
p
 < 0.001) were significantly higher in users than in non-users. There was a trend towards a higher rate of psychotropic drug prescription in participants taking oral contraceptive pills as compared to those not receiving hormonal contraception (17.8% vs. 14.4%,
p
 = 0.052). A series of linear regression models with either KINDL-R or SDQ as dependent variable confirmed that there were no associations between components of mental well-being and contraceptive drug use, irrespective of whether self- or parent-ratings were included in these models.
Conclusions
In a large, representative sample of German adolescents, exposure to exogenous contraceptive hormones was associated with higher arterial blood pressure and serum 25(OH)D concentration, whereas hormonal contraception was not linked to health-related quality of life or mental well-being.