2014 | OriginalPaper | Hoofdstuk
4. Pulpal and Periapical Diagnostic Terminology and Treatment Considerations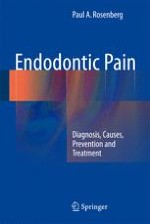 eerste hoofdstuk lezen
Auteur: DDS Paul A. Rosenberg
Uitgeverij: Springer Berlin Heidelberg
Abstract
This chapter presents a revision of diagnostic terminology developed by the American Association of Endodontists and indicates both the previous and most current terms and definitions. The clarification is useful to the practitioner as dentists and publications often use different terms to describe pulp/periapical pathosis. This can lead to misunderstandings and confusion. Each diagnostic category is described and its clinical significance is reviewed.
In this chapter, the significance of the term "neuroplasticity" and its relationship to varied painful conditions is elaborated. The term, "atypical odontalgia," is being revised by the Orofacial Pain Special Interest Group of the International Association for the Study of Pain. The new term, which is more specific, will be "chronic continuous dentoalveolar pain" (CCDAP). This chapter reviews the diagnostic challenge presented by atypical odontalgia (CCDAP).
A self-assessment section provides the reader with an opportunity to evaluate their skills in reaching a diagnosis and treatment plan in challenging cases.