2013 | OriginalPaper | Hoofdstuk
35. Pulmonary Vascular Disease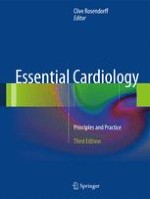 eerste hoofdstuk lezen
Auteurs: MD Eoin P. Judge, MD Dermot O'Callaghan, MD, PhD Sean P. Gaine
Uitgeverij: Springer New York
Abstract
A wide variety of disorders affect the pulmonary vasculature including pulmonary hypertension (PH) and pulmonary embolism (PE). Increased understanding of the pathophysiological basis of PH has led to a reclassification, incorporating multiple etiological factors including heritable forms. Accurate classification of PH subtypes relies on a detailed clinical and diagnostic evaluation, with right heart catheterization a requirement for definitive diagnosis. Recently developed therapies have been shown to provide clinical benefit in selected patients with PH.
Significant progress has also been made in PE. Technological improvements in diagnostics, most notably in computed tomography pulmonary angiography (CTPA), have led to increased and more accurate detection of PE. Algorithms based on risk stratification and clinical probabilities have been refined to assist clinicians in the diagnosis and treatment of this frequently complex condition. Treatment with anticoagulation and thrombolytic therapy has evolved. Outpatient management is now increasingly recognized as a viable option.
This chapter will focus on two of the most widely encountered manifestations of pulmonary vascular disease – PH and PE. In addition to discussing the etiology, epidemiology, diagnosis, and treatment of these diseases, the chapter highlights recently published evidence-based guidelines.