01-12-2011 | Review Article | Uitgave 12/2011 Open Access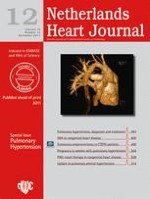 Pulmonary arterial hypertension: an update
Tijdschrift:
Auteur:

E. S. Hoendermis
Introduction
In recent years a new definition, classification and treatment options of pulmonary hypertension (PH) were developed and are described in the European Society of Cardiology (ESC) guidelines of 2009 [
1
]. More than 30 diagnoses can now be classified in one of the five groups of PH. The definition of PH is set by an invasively assessed mean pulmonary artery pressure (PAP) of ≥25 mmHg. Pulmonary arterial hypertension (PAH) is the group 1 of the PH classification (Table
1
) and represents the type of PH in which spectacular advances in the understanding and treatment have been achieved in the past decade. In the new guidelines PH on exercise was withdrawn because the mean PAP at exercise can exceed 30 mmHg in healthy subjects and is dependent on age and type and level of exercise.
Table 1
Summarised clinical classification of pulmonary hypertension
1. Pulmonary arterial hypertension
1.1 Idiopathic
1.2 Heritable
1.3 Drugs and toxins induced
1.4 Associated with
1.4.1 Connective tissue diseases
1.4.2 HIV infection
1.4.3 Portal hypertension
1.4.4 Congenital heart disease
1.4.5 Schistosomiasis
1.4.6 Chronic hemolytic anaemia
1.5 Persistent pulmonary hypertension of the newborn
1' Pulmonary veno-occlusive disease / pulmonary capillary haemangiomatosis
Classification, aetiology and prognosis
Chronic haemolytic anaemia such as sickle cell disease, thalassaemia, hereditary spherocytosis, stomatocytosis, and microangiopathic haemolytic anaemia may result in PAH.
Diagnosis
A diagnostic algorithm for the diagnosis of PH and for classification in PAH and the other different PH groups and subgroups is available in the current guidelines (Fig.
1
). In general, once PH is suspected, common causes have to be diagnosed or ruled out first. The most common causes by far are left heart disease and lung disease. If one of these diagnoses is confirmed and the pulmonary pressure is not exceeding moderate elevation (not 'out of proportion'), invasive evaluation is not necessary as, according to current data, the diagnosis of PH in these conditions has no additional therapeutic consequences
.
As a second step the presence of chronic thromboembolic PH (CTEPH) has to be evaluated before the diagnosis of PAH becomes more likely and invasive work-up is justified.
×
Symptoms
Patients with PAH can complain of dyspnoea, exercise intolerance, chest pain, dizziness and syncope, all symptoms that are also common in other cardiopulmonary disorders. For that reason, the diagnosis of PAH is often delayed. In the advanced stage signs of right heart failure are present in most of the patients. A decreased peripheral oxygen saturation due to a decreased cardiac output and in some cases a right-to-left shunt through a patent foramen ovale and physiological intrapulmonary shunts can develop. Furthermore, there can be clinical signs of the associated disease.
Value of diagnostic tests
The ECG can show signs of right ventricular hypertrophy (RVH) and right atrial (RA) dilation. On chest X-ray central pulmonary arterial dilatation and a rarification of the peripheral blood vessels can be seen (Fig.
2
). However, neither tests have adequate sensitivity and specificity to be a screening tool.
×
Echocardiography is the principal screening tool for PH. However, it has important limitations in accuracy of estimating pulmonary pressure. Although there are data showing a good correlation between echocardiographic findings and invasive measurements, there are also several studies reporting significant differences [
17
–
19
]. Another limitation is the fact that a measurement of the tricuspid regurgitation (TR)velocity to estimate PAP is not possible in a significant proportion of patients due to lack of TR or a poor acoustic window. In addition to PAP estimation indirect signs of elevated PAP such as pulmonary regurgitation velocity, acceleration time of the antegrade Doppler signal across the pulmonary valve and signs of right ventricular (RV) pressure overload or failure should always be documented to increase accuracy of the method (Fig.
3a-d
). In patients with symptoms and increased risk for developing PAH, additional invasive evaluation is necessary, also in case of normal echocardiographic findings. Nevertheless echocardiography remains the non-invasive key investigation and also plays an important role in classification of PH by excluding or identifying systolic or diastolic left heart dysfunction and valve disease or congenital heart disease as associated condition and gives important prognostic information [
20
,
21
]. The presence of pericardial effusion and a tricuspid annual excursion (TAPSE) <15 are predictors of worse outcome in PAH.
×
In pulmonary function tests PAH patients normally show no or no more than mild restriction or obstruction at peripheral airway level. But the diffusion capacity of the lung for carbon monoxide (DLCO) is often severely reduced. Although a low DLCO can also be the result of interstitial lung disease or emphysema, the combination of a very low DLCO with a lack of restriction or obstruction is very suspicious for PAH conditions, especially PVOD and collagen vascular disease.
In cardiopulmonary exercise tests PAH patients can show reduction in VO2max and increase in ventilatory inefficiency (VE/VCO2); furthermore early lactate acidosis, decreased end-expiratory CO2 and reduced O2 pulse are common, but none of those changes are specific for PAH. However, exercise tests have an important role in the follow-up in PAH patients as VO2 max and also a simple 6-minute walk test (6 MWD) are important prognostic markers [
22
]. A peak VO2 <12 ml/min/kg or a 6 MWD <300 m are predictors of clinical decline and mortality. Shah et al. could show an independent relation between exercise capacity and PVR, RA pressure and CO, the last two reflecting RV function, the strongest predictor of poor outcome in PAH [
23
].
In patients with PH, (HR)CT can show a dilated proximal pulmonary artery, abnormal pulmonary vessels, RV dilation and abnormal septal position. It can rule out emphysema or interstitial lung disease and can give important information for the diagnosis of PVOD [
24
]. CT angiography is necessary if a ventilation/perfusion scan can not sufficiently rule out thromboembolic lung disease.
MRI can not serve as a screening tool for PAH due to the insufficient accuracy of estimating pulmonary pressure and the availability of MRI. However, MRI is an important upcoming diagnostic tool in PAH as it is currently considered to be the non-invasive gold standard for evaluation of the right ventricle [
25
]. It allows a distinct visualisation of the right ventricle, evaluation of RV mass, septal bowing as a consequence of RV pressure or volume overload, and systolic and diastolic volumes of the right and left ventricle, which gives important information not only about compromised RV function but also about interventricular dependency (Fig.
4
). As decline of RV function is a key predictor of mortality, MRI provides essential information about the stage of the disease and supports therapeutic decisions.
×
Right heart catheterisation (RHC) is always required to confirm the diagnosis of PAH and to assess haemodynamics. In the same procedure vasoreactivity tests should be performed, which are indicated in PAH to identify patients who might benefit from long-term therapy with calcium channel blockers. The procedure has a low risk in experienced centres (mortality 0.055%) [
26
]. The agent of choice in acute vasoreactivity testing is inhaled nitric oxide (NO), because it has the lowest risk profile. Epoprostenol or adenosine intravenously can be used as an alternative. Response to a vasoreactivity test is defined as decrease of the mean PAP by ≥10 mmHg reaching a value ≤40 mmHg without decreasing cardiac output [
27
]. RHC should be repeated in patients with clinical deterioration for the evaluation of treatment escalation or timing of (heart)lung transplantation. Right atrial pressure and cardiac output are established prognostic markers.
BNP/NT-proBNP levels reflect the severity of RV dysfunction and are predictors of outcome. A NT-proBNP cut-off point at 1400 pg/mL was predictive of a 3-year outcome in 55 patients with severe precapillary PH [
28
]. But larger studies are needed to confirm or optimise the cut-off value for different subgroups of PAH.
Treatment
Conclusion
Despite the success of disease stabilisation with medical therapy, targeting the pulmonary vascular tone, PAH is still a condition with a poor prognosis. Early diagnosis, goal-oriented treatment in PH expert centres, development of new drugs and timely listing for lung transplantation will hopefully further improve outcome in this heterogeneous group of patients.
Acknowledgement
I want to thank I.C.C. van der Horst, MD, PhD for his kind revision of the manuscript.
Open Access
This article is distributed under the terms of the Creative Commons Attribution Noncommercial License which permits any noncommercial use, distribution, and reproduction in any medium, provided the original author(s) and source are credited.
Open Access
This is an open access article distributed under the terms of the Creative Commons Attribution Noncommercial License (
https://​creativecommons.​org/​licenses/​by-nc/​2.​0
), which permits any noncommercial use, distribution, and reproduction in any medium, provided the original author(s) and source are credited.