08-03-2019 | Uitgave 9/2019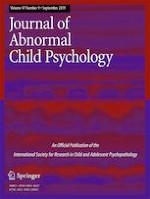 Pubertal Timing and Substance use in Adolescence: an Investigation of Two Cognitive Moderators
Tijdschrift:
Auteurs:

Allison Stumper, Thomas M. Olino, Lyn Y. Abramson, Lauren B. Alloy
Belangrijke opmerkingen
Publisher's Note
Springer Nature remains neutral with regard to jurisdictional claims in published maps and institutional affiliations.
Abstract
Off-time pubertal development is a predictor of substance use among adolescents. Early-maturing girls and early- and late-maturing boys appear to be at greater risk for substance use, although findings are more consistent for girls. Although cognitive factors are also important in the etiology of adolescent substance use, few studies have investigated potential cognitive risk and protective factors in these associations. The current study tested whether future orientation or cognitive style (e.g., attributions youth make about the causes and consequences of negative life events) moderated the association between pubertal timing and substance use two years later and whether this effect was stronger for females. Multiple linear regressions revealed cognitive style and future orientation significantly moderated the association between pubertal timing and substance use, and these effects did not differ by sex. Importantly, the pattern of these interactions differed, such that early pubertal timing predicted more substance use in the context of more negative and moderate cognitive styles and greater and moderate future orientation. Follow-up analyses revealed that an adolescent's attributions about the consequences, globality, and self-worth implications of negative life events significantly moderated the pubertal timing - future substance use association. Furthermore, the pattern of these interactions predicted each of the four types of substances assessed in the context of cognitive style, but only predicted nicotine and marijuana use in the context of future orientation. These results highlight which cognitive factors may influence risk for substance use for early-maturing youth.