01-05-2018 | Artikelen | Uitgave 2/2018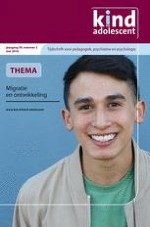 Psychotische ervaringen bij jeugdigen met een migratieachtergrond: prevalentie, impact en culturele context
Tijdschrift:
Auteurs:

Dr. Marcia Adriaanse, Mr. dr. Lieke van Domburgh, Prof. dr. Hans Wijbrand Hoek, Prof. dr. Ezra Susser, Prof. dr. Theo A. H. Doreleijers, Prof. dr. Wim Veling
Belangrijke opmerkingen
Dit artikel betreft een Nederlandstalige vertaling van een eerder verschenen Engelstalig artikel: Adriaanse, M., Domburgh, L. van, Hoek, H.W., Susser, E., Doreleijers, T.A.H., & Veling, W. (2015). Prevalence, impact and cultural context of psychotic experiences among ethnic minority youth.
Psychological Medicine, 45,
637–646.
Samenvatting
Veel etnische minderheidsgroepen hebben een groter risico op het ontwikkelen van een psychotische stoornis. Mogelijk ontstaat dit risico al in de kindertijd. In deze studie is de prevalentie van psychotische ervaringen (PE'n) met veel impact bij jeugdigen met en zonder een migratieachtergrond onderzocht. Ook is de mate van ervaren lijdensdruk (impact) in kaart gebracht en getoetst of eventuele verschillen verklaard konden worden door de culturele context.
De onderzoeksgroep bestond uit 1.545 leerlingen op basisscholen en middelbare scholen in Nederland. Er konden voldoende grote groepen gevormd worden met jeugdigen met een Nederlandse (
n
 = 702), Marokkaans-Nederlandse (
n
 = 400) en Turks-Nederlandse (
n
 = 170) achtergrond. Er werden zelfrapportagevragenlijsten over PE'n, impact en culturele context afgenomen.
De prevalentie van PE'n met veel impact was 3,1 % bij Nederlandse, 9,5 % bij Marokkaans-Nederlandse (oddsratio (OR) = 3,0) en 7,1 % bij Turks-Nederlandse jeugdigen (OR = 2,2). Deze verschillen bleven bestaan wanneer de controlewaan, die ook culturele of religieuze overtuigingen zou kunnen weerspiegelen, niet werd meegenomen in de analyse en wanneer werd gecontroleerd voor een indicator voor culturele context. Bij alle etnische groepen waren PE'n met veel impact geassocieerd met andere psychiatrische symptomen en bekende risicofactoren voor psychotische stoornissen.
Dit onderzoek wijst erop dat het verhoogde risico op psychotische stoornissen bij etnische minderheden in de volwassenheid mogelijk al in de kindertijd te herkennen is. Het aanvullend meten van impact lijkt waardevol te zijn om die jeugdigen te identificeren die een hoog risico lopen op de ontwikkeling van een psychotische of andere psychiatrische stoornis.