01-12-2011 | Wetenschap | Uitgave 8/2011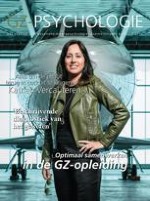 Psychotherapie voor depressie werkt! Maar hoe?
Stand van zaken van onderzoek naar werkingsmechanismen
Tijdschrift:
Auteurs:

L.H.J.M. Lemmens, M.J.H. Huibers
Belangrijke opmerkingen
Lotte H. J. M. Lemmens en Marcus J. H. Huibers, Department of Clinical Psychological Science, Faculty of Psychology and Neuroscience. Correspondentie betreffende dit artikel kan gericht worden aan Lotte Lemmens, Department of Clinical Psychological Science, Faculty of Psychology and Neuroscience, Maastricht University, Postbus 616, 6200 MD, Maastricht, E-mail: Lotte. Lemmens@maastrichtuniversity.nl, Tel: +31 (0)43 3881874, Fax +31 (0)43 388415. Maastricht University
Samenvatting
Depressie is een ernstig en toenemend gezondheidsprobleem. Hoewel uit onderzoek is gebleken dat verschillende vormen van psychotherapie effectief zijn in het behandelen van somberheidklachten, zijn initiële responscijfers onvoldoende en terugvalcijfers hoog. Verbetering van therapieën is nodig. Inzicht in werkingsmechanismen die therapeutische verandering kunnen verklaren, wordt gezien als een cruciale eerste stap in het verbeteren van behandelingen. Toch bestaat er tot nu toe geen
evidence based
verklaring over waarom en hoe psychotherapie leidt tot een vermindering van depressieve klachten. Hoewel de aandacht voor mechanisme-onderzoek de laatste jaren sterk is toegenomen, staat onderzoek op dit gebied nog in de kinderschoenen. Bevindingen zijn veelbelovend maar zeer zeker niet onbetwistbaar. De praktijk wijst uit dat mechanisme-onderzoek niet gemakkelijk is, en te maken heeft met een aantal theoretische, methodologische en statistische moeilijkheden. In dit artikel wordt de stand van zaken van huidig mechanismeonderzoek besproken en wordt ingegaan op veelvoorkomende moeilijkheden. Verder wordt er aandacht besteed aan wat we kunnen leren uit voorgaand onderzoek en zullen voorwaarden voor gedegen mechanisme-onderzoek aan bod komen. Aspecten als mediatie, temporaliteit en specificiteit spelen hierin een centrale rol.