01-12-2009 | Artikel | Uitgave 6/2009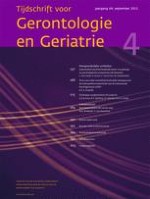 Psychosociale aspecten van gezondheid en zelfredzaamheid bij ouderen: van determinanten naar interventie
Tijdschrift:
Auteur:

G. I. J. M. Kempen
Belangrijke opmerkingen
Hoogleraar Sociale Gerontologie bij de Vakgroep Verpleging en Verzorging, CAPHRI School for Public Health and Primary Care, Maastricht University
Correspondentie: Prof.dr. G.I.J.M. Kempen, Vakgroep Verpleging en Verzorging, CAPHRI School for Public Health and Primary Care (CAPHRI), Maastricht University, Postbus 616, 6200 MD Maastricht.
Samenvatting
Een centrale vraag binnen de sociale gerontologie betreft hoe het is te verklaren dat sommige ouderen tot op hoge leeftijd – ongeacht de aanwezigheid van ziekte - op een redelijk niveau blijven functioneren, terwijl dit voor andere ouderen niet het geval is. Dit artikel schetst een conceptueel model dat inzicht geeft in de individuele uitwerking van (voornamelijk) chronische gezondheidsproblemen en daardoor aanknopingspunten biedt voor gerichte interventies voor het bevorderen van zelfredzaamheid bij ouderen. Meer specifiek wordt ingegaan op de rol die gevoelens van competentie en controle hierbij spelen. Uit het beschreven onderzoek blijkt dat gevoelens van competentie en controle weliswaar niet overheersend maar wel consistent in positieve zin bijdragen aan zelfredzaamheid en het functioneren van ouderen. Daarmee is een basis gelegd voor de ontwikkeling en evaluatie van psychosociale interventies die beide concepten en zelfredzaamheid in positieve zin kunnen beïnvloeden. Twee van dergelijke interventies worden gepresenteerd: vermindering van angst om te vallen en zelfmanagement bij chronisch hartfalen. Geconcludeerd wordt dat de ontwikkeling en de bewijskracht van dergelijke interventies pas in de kinderschoenen staan maar potentie hebben. Een verdere stimulans ervan kan bijdragen aan een meer adequate ouderenzorg omdat deze aansluit bij ouderen zelf en mogelijk de zorgvraag zal verminderen.