01-04-2006 | Original Article | Uitgave 2/2006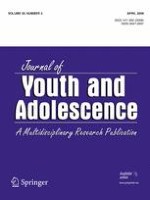 Psychosocial Aspects of Body Mass and Body Image Among Rural American Indian Adolescents
Tijdschrift:
Auteurs:

Denise L. Newman, Lisa M. Sontag, Rebecca Salvato
Belangrijke opmerkingen
On faculty at Tulane University. Received PhD in clinical and developmental psychology from the University of Minnesota. Major research interests are developmental psychopathology and personality, and diverse topics in American Indian mental health.
Department of Psychology, University of Florida, Gainesville, Florida. A graduate student in the developmental psychology. Received BS in psychology from Tulane University in 2004. Major research interests include developmental psychopathology, emotion regulation, and biological responses to stress.
Department of Psychology, Tulane University, New Orleans, Louisiana. A doctoral student in developmental and school psychology at Tulane University. Received MS in psychology from Tulane University and BA in psychology from CUNY Hunter College. Major research interests are social and personality development, developmental psychopathology, minority mental health, and the impact of hearing loss on social and cognitive development.
This study examines the psychosocial risks associated with body weight (BMI) and body image in a southeastern, rural Lumbee American Indian community. A total of 134 adolescents (57% female) were surveyed over 2 years at ages of 13 and 15 years. On average, boys (55%) were more likely to be overweight or obese than were girls (31%). BMI was related to a variety of weight control efforts including onset and frequency of smoking, dieting, and body dissatisfaction. Body dissatisfaction was associated with peer relations, self-esteem, anxiety, depression, and somatization in adolescence. Longitudinally, psychological health, peer competence, and ethnic identity were associated with positive body image. In boys, early ethnic identification was associated with the development of later body image. Implications of findings for ethnic- and gender-specific interventions are discussed.