23-07-2019 | Uitgave 1/2020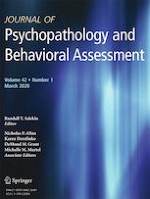 Psychopathy and Intelligence: A Study on Male Not Guilty by Reason of Insanity (NGRI) Acquittees
Auteurs:

Nicholas D. Thomson, Carla Galusha, Elizabeth M. A. Wheeler, Lindsay Ingram
Belangrijke opmerkingen
Publisher's Note
Springer Nature remains neutral with regard to jurisdictional claims in published maps and institutional affiliations.
Abstract
Research exploring the link between psychopathy and intelligence is limited, and the results thus far suggest there is a lack of generalizability between forensic inpatients and community samples. A specialist population that has not received any attention in relation to psychopathic traits and intelligence are not guilty by reason of insanity (NGRI) acquittees. The aim of the present study was to test the relation between the 2-factor and 4-facet models of the Psychopathy Checklist-Revised (PCL-R; Hare
2003
) and intelligence using the Wechsler Adult Intelligence Scale (WAIS; Wechsler
2008
) in a sample of male NGRI acquittees (
n
 = 101). Using a series of multiple regressions, the results from the 2-factor model showed there was a tenuous relation between psychopathy and intelligence in NGRI male acquittees. In contrast, the 4-facet model showed a stronger association. In particular, better performance on Full-Scale Intelligence Quotient (FSIQ), working memory, and processing speed were associated with higher levels of interpersonal psychopathic traits. The antisocial and affective facets were negatively associated with performance on the FSIQ, and the affective facet was negatively associated with working memory and processing speed. These results demonstrate that the 2-factor construct of the PCL-R may be less sensitive at understanding correlates of psychopathic traits. For example, factor 1 includes the interpersonal and affective facets of psychopathy, of which this study showed the two facets are inversely associated with intelligence in NGRI men. These results, in part, lend support to early theorists that prototypical psychopaths display higher levels of intelligence.