01-10-2009 | Original Article | Uitgave 5/2009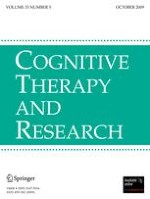 Psychometric Properties of the Social Problem Solving Inventory-Revised Short-Form: Is the Short Form a Valid and Reliable Measure for Young Adults?
Tijdschrift:
Auteurs:

Deanne Hawkins, Kate Sofronoff, Jeanie Sheffield
Abstract
The purpose of the present study was to examine the psychometric properties of the Social Problem-Solving Inventory-Revised Short-Form (SPSI-R:SF), a 25-item self-report measure of real life social problem-solving ability. A sample of 219 Australian university students aged 16–25 years participated in the study. The reliability of the SPSI-R:SF scales was adequate to excellent. Evidence was demonstrated for convergent validity and divergent validity. Confirmatory factor analysis results were in line with past research and suggested good model fit. In addition, discriminant function analysis revealed that the SPSI-R:SF was able to significantly discriminate low and high levels of depressive symptomatology. Collectively, results suggest that the SPSI-R:SF represents a reliable and valid instrument for efficient assessment of social problem-solving ability in young Australian adults. Limitations and future research are also discussed.