01-10-2014 | Original Paper | Uitgave 7/2014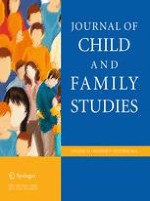 Psychometric Properties and Convergent Validity of the Dependency-Oriented and Achievement-Oriented Psychological Control Scale (DAPCS) with Italian Adolescents
Tijdschrift:
Auteurs:

Gianni Guzzo, Valentina Lo Cascio, Ugo Pace, Carla Zappulla
Belangrijke opmerkingen
Gianni Guzzo, Valentina Lo Cascio, Ugo Pace and Carla Zappulla have contributed equally to the study.
Abstract
This study is aimed to validate the Italian version of the dependency-oriented and achievement-oriented psychological control scale (DAPCS), a self-report questionnaire designed to assess the adolescent's perception of the two dimensions of psychological control. In Study 1, we assessed factorial validity and reliability of the Italian version of DAPCS with a sample of adolescents. In Study 2, we examined the convergent validity of the Italian version of the DAPCS analyzing the associations between the two domains of psychological control and well-established measures related to them such as strictness/supervision, overprotection, non dependency on parents, and family functioning. Confirmatory factor analyses confirmed the hypothesized two-factor solution of the DAPCS, with a 16 items' version better fitting the data, for paternal as well as for maternal ratings. High indices of internal consistency indicated that both subscales produced reliable scores. Convergent validity was confirmed by positive associations between the DAPCS' subscales and measures of strictness and negative associations between the DAPCS' subscales and measures of global family functioning, both for maternal and paternal ratings. Finally, results evidenced significant effects for adolescents' and parental gender on achievement-oriented psychological control, with mothers rated higher than fathers by males and fathers rated higher than mothers by females. Overall, the results of these studies indicated that the Italian form of the DAPCS might be a useful instrument to assess the two domain-specific types of parental psychological control among Italian-speaking adolescents.