25-05-2021 | Original Article | Uitgave 6/2021 Open Access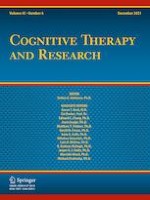 Psychological and Physiological Effects of Imagery Rescripting for Aversive Autobiographical Memories
Tijdschrift:
Auteurs:

Miriam Strohm, Marena Siegesleitner, Anna E. Kunze, Gabriela G. Werner, Thomas Ehring, Charlotte E. Wittekind
Belangrijke opmerkingen
Supplementary Information
Publisher's Note
Springer Nature remains neutral with regard to jurisdictional claims in published maps and institutional affiliations.
Abstract
Background
Imagery Rescripting (ImRs) is a promising intervention to reduce symptoms associated with aversive memories, but little is known about its working mechanisms. The present study investigates whether ImRs increases perceived mastery and attenuates emotional reactivity to memory retrieval on a subjective and physiological level.
Methods
Seventy-nine individuals reporting memories of distressing real-life events were randomly allocated to ImRs, positive imagery (PI), or no-intervention control (NIC). The memory was reactivated before the intervention and at 1-week follow-up to assess subjective measures and physiological reactivity (heart rate [HR], skin conductance level [SCL], and facial electromyography activity [EMG]) during memory retrieval.
Results
ImRs was superior to PI and NIC on subjective memory distress and helplessness, but not on other emotions. ImRs did not exceed PI and NIC in reducing state stress symptoms or increasing perceived mastery. Physiological reactivity (HR, EMG) decreased from pre-intervention to follow-up with no differences between groups.
Conclusions
Positive effects of ImRs on helplessness and distress were found. Null findings regarding mastery might result from timing of its assessment or the fact that rather high-functioning participants were included. The lack of between group differences on physiological responses indicates that ImRs did not exceed habituation effects in the present sample.