01-05-2018 | Artikelen | Uitgave 2/2018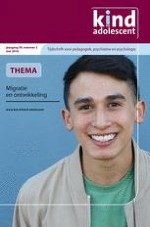 Psychische problematiek bij jeugdigen met een migratieachtergrond in Nederland en Vlaanderen
Een literatuuroverzicht
Tijdschrift:
Auteur:

Dr. Gonneke W. J. M. Stevens
Belangrijke opmerkingen
Onderdelen van het huidige artikel zijn een bewerking van een eerder uitgekomen boekhoofdstuk: Stevens, G.W.J.M., & Verhulp, E.E. (2017). Migratie en psychische problematiek bij jeugdigen: reden tot (professionele) zorg? In J. Knipscheer, & R. Kleber (Red.),
Psychologie en de multiculturele samenleving
(pag. 81–99). Amsterdam: Boom.
Samenvatting
In de literatuur worden twee theoretische perspectieven op de relatie tussen het hebben van een migratieachtergrond en psychische problematiek onderscheiden: het stress- en het veerkrachtperspectief. Om voor jeugdigen in Nederland en Vlaanderen inzicht te krijgen in deze relatie, wordt in dit artikel een overzicht gegeven van het Nederlandse en Vlaamse onderzoek op dit gebied. Op basis van de resultaten van drie eerder uitgevoerde systematische reviews en een aanvullende zoekactie in PsycINFO, zijn veertien onderzoeken geselecteerd. De resultaten van de onderzoeken lieten geen eenduidige verschillen in psychische problemen zien tussen jeugdigen met en zonder een migratieachtergrond. Vergeleken met hun leeftijdgenoten werden er zowel hogere als vergelijkbare en lagere niveaus van psychische problemen gerapporteerd voor of door jeugdigen met een migratieachtergrond. De resultaten varieerden sterk met het type psychische probleem, de etnische achtergrond van de jeugdige en de informant. Jongeren met een migratieachtergrond rapporteerden bijvoorbeeld hoge niveaus van sociale problemen en (in mindere mate) gedragsproblemen vergeleken met jongeren zonder een dergelijke achtergrond, terwijl de laatste groep relatief veel hyperactiviteit rapporteerde. Ook rapporteerden leerkrachten meer externaliserend probleemgedrag voor jeugdigen met een migratieachtergrond (met name Marokkaans-Nederlandse jeugdigen) dan deze jongeren zelf of hun ouders. De resultaten wijzen erop dat voor het begrijpen van de situatie van jeugdigen met een migratieachtergrond in Nederland en Vlaanderen zowel het stress- als het veerkrachtperspectief op migratie relevant is. Toekomstig onderzoek onder andere migrantengroeperingen, waarin meer aandacht is voor zowel verklarende mechanismen als voor de identificatie van risicogroepen is wenselijk.