01-11-2009 | Uitgave 8/2009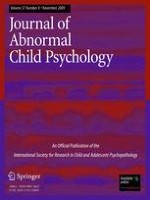 Providing Information to Parents of Children with Mental Health Problems: A Discrete Choice Conjoint Analysis of Professional Preferences
Tijdschrift:
Auteurs:

Charles E. Cunningham, Ken Deal, Heather Rimas, Yvonne Chen, Don H. Buchanan, Kathie Sdao-Jarvie
Belangrijke opmerkingen
Dr. Cunningham is Professor, Department of Psychiatry and Behavioural Neurosciences and the Jack Laidlaw Chair in Patient-Centred Health Care. Dr. Deal is Associate Professor of Strategic Market Leadership and Health Services Management, DeGroote School of Business. Heather Rimas is Research Coordinator of the Patient-Centred Service Research Unit. This project was supported by a grant from the Canadian Institutes of Health Research and the Jack Laidlaw Chair in Patient-Centred Health at McMaster University Faculty of Health Sciences. We acknowledge the contributions of the agencies and professionals who supported this research and the editorial assistance provided by Stephanie Mielko, Jenna Ratcliffe, Donna Bohaychuk, and Catherine Campbell. Address correspondence to Dr. Charles Cunningham, McMaster Children's Hospital, Hamilton, Ontario, Canada, L8N 3Z5. Electronic mail may be sent via Internet to cunnic@hhsc.ca.
Abstract
We used discrete choice conjoint analysis to model the ways 645 children's mental health (CMH) professionals preferred to provide information to parents seeking CMH services. Participants completed 20 choice tasks presenting experimentally varied combinations of the study's 14 4-level CMH information transfer attributes. Latent class analysis revealed three segments. Open Access professionals (32.2%) preferred that intake workers automatically provide all parents with CMH information. They preferred information prepared by professional organizations and located at accessible settings such as public schools. They responded favorably to the internet as a source of information for parents. Controlled Access professionals (22.2%) preferred information that was approved and recommended by a child's therapist, prepared by an experienced clinician, and located at hospitals and CMH clinics. Process Sensitive professionals (45.6%) showed a stronger preference for active learning materials with parenting groups and therapist "coaching" calls supporting the knowledge transfer process. Simulations suggested that realizing the benefits of CMH information requires the development of knowledge transfer strategies that align the preferences of professionals with those of the families they serve.