01-12-2008 | Uitgave 10/2008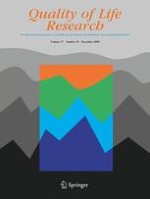 Prospects and challenges in using patient-reported outcomes in clinical practice
Tijdschrift:
Auteurs:

Constance H. Fung, Ron D. Hays
Abstract
Background
Patient-reported measures include preferences and reports about care received, health behaviors, and outcomes of care (patient satisfaction and health-related quality of life). These measures are a core aspect of health care, but there is much to be learned about how to use them to improve clinical practice.
Method
We specify linkages among different patient-reported measures and focus upon the prospects and challenges for use of patient-reported outcomes in clinical practice.
Results
Patient-reported measures are important throughout the continuum of patient care. At the initial visit, patient-reported outcomes provide information about what is important to the patient, the patient's current behaviors, and the patient's baseline health-related quality of life. At subsequent visits, patient-reported outcomes help evaluate disease progression or regression as well as treatment effects.
Conclusions
Patient-reported measures can help clinicians target interventions that will improve patient outcomes of care. However, there are a number of challenges in using patient-reported outcomes in clinical practice.