01-09-2012 | Uitgave 7/2012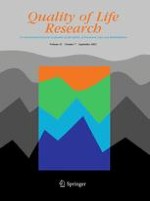 PROMIS® Parent Proxy Report Scales: an item response theory analysis of the parent proxy report item banks
Tijdschrift:
Auteurs:

James W. Varni, David Thissen, Brian D. Stucky, Yang Liu, Hally Gorder, Debra E. Irwin, Esi Morgan DeWitt, Jin-Shei Lai, Dagmar Amtmann, Darren A. DeWalt
Abstract
Objective
The objective of the present study is to describe the item response theory (IRT) analysis of the National Institutes of Health (NIH) Patient Reported Outcomes Measurement Information System (PROMIS®) pediatric parent proxy-report item banks and the measurement properties of the new PROMIS® Parent Proxy Report Scales for ages 8–17 years.
Methods
Parent proxy-report items were written to parallel the pediatric self-report items. Test forms containing the items were completed by 1,548 parent–child pairs. CCFA and IRT analyses of scale dimensionality and item local dependence, and IRT analyses of differential item functioning were conducted.
Results
Parent proxy-report item banks were developed and IRT parameters are provided. The recommended unidimensional short forms for the PROMIS® Parent Proxy Report Scales are item sets that are subsets of the pediatric self-report short forms, setting aside items for which parent responses exhibit local dependence. Parent proxy-report demonstrated moderate to low agreement with pediatric self-report.
Conclusions
The study provides initial calibrations of the PROMIS® parent proxy-report item banks and the creation of the PROMIS® Parent Proxy-Report Scales. It is anticipated that these new scales will have application for pediatric populations in which pediatric self-report is not feasible.