22-05-2020 | Empirical Research | Uitgave 10/2020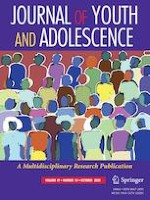 Profiles and Transitions of Dual-Factor Mental Health among Chinese Early Adolescents: The Predictive Roles of Perceived Psychological Need Satisfaction and Stress in School
Tijdschrift:
Auteurs:

Jianhua Zhou, Siyi Jiang, Xinxin Zhu, E. Scott Huebner, Lili Tian
Belangrijke opmerkingen
Publisher's note
Springer Nature remains neutral with regard to jurisdictional claims in published maps and institutional affiliations.
Abstract
Increasing evidence has supported the dual-factor model of mental health which propose that both negative (i.e., psychological symptoms)
and
positive (e.g., well-being) indicators should be included in comprehensive assessments of youth's mental health. However, the nature of the profiles and transitions of dual-factor mental health and their predictors remain unclear during early adolescence, thus precluding a meaningful understanding of the development in comprehensive mental health status. This study included measures of negative (i.e., depressive symptoms and anxiety symptoms) as well as positive (i.e., life satisfaction and self-esteem) mental health to identify heterogeneous profiles, transition patterns, and key school-related predictors of dual-factor mental health statuses among Chinese early adolescents. A total of 1009 participants with a range of 10 to 15 years old (
M
age 
= 12.97,
SD
 = 0.67, 50.7% female) completed assessments on three occasions, every six months. The results revealed three distinctive groups: Flourishing youth (i.e., low depressive and anxiety symptoms, high self-esteem and life satisfaction), Vulnerable youth (i.e., low depressive and anxiety symptoms, low self-esteem and life satisfaction), and Troubled youth (i.e., high depressive and anxiety symptoms, low self-esteem and life satisfaction). The findings also indicated differential stability and unique transition patterns among the three groups. The results also revealed that higher levels of autonomy, relatedness and competence need satisfaction in school operated as protective factors whereas higher levels of academic and peer relationship stress operated as risk factors for the profiles and transition patterns. The identification of three groups with unique transition patterns highlights the importance of subgroup differences and possible cultural considerations in understanding the progression of mental health and the need for universally screening and dynamically monitor changes in youth's dual-factor mental health to develop more sophisticated intervention programs tailored to the unique characteristics of the relevant groups. Furthermore, the identification of important school-related predictors of mental health, specifically experiences surrounding the satisfaction of psychological needs in school (especially relatedness needs) and school stress (especially peer relationship stress), should inform prevention and intervention programs.