14-11-2016 | Uitgave 2/2017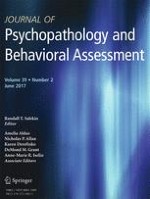 Processing of Ambiguous Facial Affect in Adolescents with Depressive Symptoms Prior to and Following Social Exclusion: The Role of Perceptual Sensitivity and Response Bias
Auteurs:

Sina Müller, Aiste Jusyte, Sarah Trzebiatowski, Martin Hautzinger, Michael Schönenberg
Belangrijke opmerkingen
Electronic supplementary material
The online version of this article (doi:
10.​1007/​s10862-016-9582-6
) contains supplementary material, which is available to authorized users.
Author Note
Sina Müller and Aiste Jusyte are at University of Tübingen, LEAD Graduate School & Research Network, Gartenstraße 29, 72074 Tübingen, Germany. Aiste Jusyte, Sarah Trzebiatowski, Martin Hautzinger, and Michael Schönenberg are at University of Tübingen, Department of Clinical Psychology and Psychotherapy, Schleichstraße 4, 72076 Tübingen, Germany.
Sina Müller and Aiste Jusyte contributed equally to this work.
Abstract
Depressive symptoms in adolescents are an important mental health issue and are associated with adverse developmental outcomes. Impairments in facial affect processing are considered an important factor in the etiology of depression. However, studies on facial affect processing in youth with depressive symptoms are lacking. This study investigated alterations in facial affect processing and the underlying mechanisms (perceptual sensitivity vs. response bias) related to adolescent depression, as well as the potential impact of negative social experiences. Sixty adolescents (
M
age = 13.24,
SD
 = 1.03, 66.7 % female) with high (HD) and low (LD) depressive symptoms rated the predominant affective expression in ambiguous stimuli with varying intensity (happy-sad, happy-angry, sad-angry) prior to and following a negative (social rejection), positive (social inclusion), or no social experience with the depicted model identities. There were no baseline differences between groups. The LD group exhibited an increased perceptual sensitivity to happy expressions depicted by benevolent and stranger models, whereas the HD exhibited a higher sensitivity toward happy expressions depicted by rejecting social partners. The results suggest that depressive symptoms in adolescents may be associated with an altered processing of facial affect for partners who had previously rejected them. Implications of these findings for development and maintenance of adolescent depression are discussed.