01-03-2011 | Uitgave 1/2011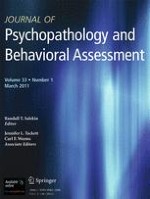 Proactive and Reactive Aggression and Physical Activity
Auteurs:

Paula J. Fite, Michael Vitulano
Belangrijke opmerkingen
Paula Fite and Michael Vitulano are both in the Psychology Department at the University of Tennessee. They would like to thank Alden Gaertner, Porche' Wynn, Jamie Rathert, Emily Long, and the remaining UT Child Behavior Lab staff for their assistance with data collection. Additionally, they would like to thank the families who participated in the study.
Abstract
The current study examined relations between physical activity and proactive and reactive aggression. Additionally, physical activity was examined as a potential moderator of the associations between these subtypes of aggression and peer delinquency. Relations were examined in a community recruited sample of 89 children (56% male, 74% Caucasian) ranging from 9 to 12 years of age (
M
 = 10.44,
SD
 = 1.14). As expected, physical activity was negatively related to proactive aggression and unrelated to reactive aggression. Moreover, physical activity moderated the relation between proactive aggression and peer delinquency, such that at high levels of physical activity, proactive aggression was unrelated to peer delinquency but at low levels of physical activity, proactive aggression was positively associated with peer delinquency. Thus, physical activity may be an important factor to consider when understanding the link between aggression and other problem behavior, as physical activity appears to impact the link between proactive aggression and delinquent peer affiliations.