01-01-2017 | Beschouwing | Uitgave 1/2017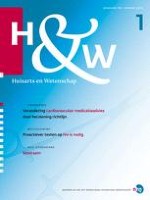 Proactiever testen op hiv is nodig
Tijdschrift:
Auteurs:

Ivo Joore, Eline Op de Coul, Ben Bom, Ard van Sighem, prof. dr. Suzanne Geerlings, prof. dr. J.M. Jan Prins, prof dr. J.E.A.M. van Bergen
Belangrijke opmerkingen
Academisch Medisch Centrum/Universiteit van Amsterdam, afdeling Huisartsgeneeskunde, Meibergdreef 9, 1100 DE Amsterdam: I.K. Joore, MSc, arts-onderzoeker; prof dr. J.E.A.M. van Bergen, huisarts, tevens programmaleider Soa Aids Nederland. AMC/UvA, afdeling Inwendige Geneeskunde, Amsterdam: prof. dr. S.E. Geerlings, internist-infectioloog; prof. dr. J.M. Prins, internist-infectioloog. Rijksinstituut voor Volksgezondheid en Milieu, Centrum Infectieziektebestrijding, Bilthoven: dr.ir. E.L.M. Op de Coul, epidemioloog. RIvm, afdeling Rekenen, Data en GIS De Bilt: B.C.J. Bom, GIS-specialist. Stichting HIV Monitoring (SHM), ATHENA national observational HIV cohort, Amsterdam: dr. A.I. van Sighem, onderzoeker • Correspondentie: i.k.joore@amc.uva.nl • Mogelijke belangenverstrengeling: het Aidsfonds Amsterdam verstrekte financiering voor het onderzoek (subsidienummer 2012074). J. van Bergen werkt in deeltijd bij Soa Aids Nederland, een niet-gouvernementele organisatie die fondsen ontvangt van private organisaties en farmaceutische bedrijven. Voor de gedragscode zie
http://​www.​soaaids.​nl/​sites/​default/​files/​documenten/​Corporate/​corporate_​partnership_​guidelines.​pdf
. A. van Sighem ontving gedurende de looptijd van het onderzoek subsidies van het Ministerie van Welzijn, Volksgezondheid en Sport en buiten het onderhavige onderzoek persoonlijke financiering van het European Centre for Disease Prevention and Control, Gilead Sciences, ViiV Healthcare, Bristol-Myers Squibb en Janssen-Cilag.
Samenvatting
Joore IK, Op de Coul ELM, Bom BCJ, Van Sighem AI, Geerlings SE, Prins JM, Van Bergen JEAM. Proactiever testen op hiv is nodig. Huisarts Wet 2017;60(1):24-6.
Elk jaar worden in Nederland ongeveer 1000 nieuwe hiv-diagnoses gesteld. Bij een groot deel van deze patiënten (44%) gebeurt dat relatief laat in het ziektebeloop. Vroegtijdige behandeling van hiv na diagnose heeft grote voordelen, voor de patiënt én voor de volksgezondheid. Vroegtijdige opsporing is dus van groot belang. Vooralsnog heeft het testen van risicogroepen onvoldoende geleid tot kentering van de hiv-epidemie in Nederland. Twee nieuwe teststrategieën, naast het testen binnen risicogroepen, zijn het aanbieden van hiv-tests aan patiënten met hiv-gerelateerde aandoeningen ('hiv-indicatoraandoeningen') en het routinematig proactief aanbieden van hiv-tests in gebieden waar de hiv-prevalentie hoger is dan 2 per 1000 inwoners. Het voordeel is dat de hiv-test in deze nieuwe strategieën niet langer gekoppeld is aan seksueel risicogedrag of etniciteit, wat ertoe kan bijdragen dat hij genormaliseerd wordt.