01-12-1999 | Artikelen | Uitgave 4/1999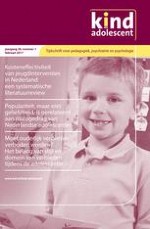 Preventieprogramma's voor kinderen van alcoholafhankelijke ouders
Een overzicht van de literatuur
Tijdschrift:
Auteur:

Dr. P. Cuijpers
Belangrijke opmerkingen
Dr. P. Cuijpers
is psycholoog en hoofd van het programma Risicogroepen van de afdeling Preventie van het Trimbos-instituut (Netherlands Institute for Mental Health and Addiction) te Utrecht.
Contactadres:
Trimbos-instituut, Postbus 725, 3500 AS Utrecht
Met dank aan dr. A. van Gageldonk voor zijn waardevolle bijdrage aan de totstandkoming van dit artikel.
Prevention programmes for children of alcoholic parents: a review of the literature
Children of alcoholics (COAs) have an increased risk of incurring serious psychological or psychiatric problems. This increased risk is caused by somatic, social and psychological factors. Several prevention programmes for COAs have been developed, in which social support, information about alcoholism, skills training and coping with emotional problems are central elements. Most programmes are school-based, but there are programmes for children of alcohol related traffic offenders, for children whose parents are being treated for alcoholism, self-help programmes and mass media programmes. Hardly any research has been conducted on the effects of these programmes.
Keywords:
prevention, children of alcoholic parents, literature review
Samenvatting
Kinderen waarvan ten minste één van de ouders alcoholproblemen heeft, lopen een verhoogd risico op ernstige psychische problemen. Dit wordt waarschijnlijk veroorzaakt door lichamelijke, sociale en psychische factoren. Er zijn verschillende preventieprogramma's ontwikkeld voor deze kinderen, waarin sociale steun, informatie over alcoholafhankelijkheid, vaardigheidstraining en het omgaan met emotionele problemen centraal staan. De meeste programma's vinden plaats op of via school. Daarnaast zijn er programma's voor kinderen van alcoholgerelateerde verkeersovertreders, kinderen waarvan de ouder in behandeling is, zelfhulpprogramma's en massamediale programma's. Wetenschappelijk onderzoek naar de effecten van de programma's is schaars.