01-12-2013 | Onderzoek | Uitgave 12/2013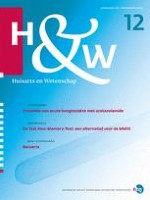 Preventie van acute hoogteziekte met acetazolamide
Tijdschrift:
Auteurs:

Marieke van Vessem, Bengt Kayser, prof.dr. Theo Stijnen, Remco Berendsen
Belangrijke opmerkingen
LUMC, afdeling Anesthesiologie, Einthovenweg 20, 2333 ZC Leiden: M.E. van Vessem, student geneeskunde; afdeling Medische statistiek: prof.dr. T. Stijnen, statisticus; R.R. Berendsen, anesthesioloog. Universiteit van Genève, Instituut voor Bewegingswetenschappen en Sportgeneeskunde, Zwiserland: prof.dr.B. Kayser, directeur • Correspondentie: r.r.berendsen@lumc.nl • Mogelijke belangenverstrengeling: niets aangegeven.
Samenvatting
Achtergrond
Het doel van deze meta-analyse is het vaststellen van de minimale dosis acetazolamide die effectief is voor de preventie van acute hoogteziekte voor Nederlanders die naar grote hoogte gaan, rekening houdend met bijwerkingen.
Methode
In de databanken van PubMed, Embase en Cochrane Library hebben we systematisch gezocht naar onderzoeken die het effect van acetazolamide voor de preventie van acute hoogteziekte bepaalden ten opzichte van een placebo. De onderzoeken moesten de incidentie van acute hoogteziekte dichotoom rapporteren, gecontroleerd, gerandomiseerd en methodologisch goed (Jadad-score ≥ 3) en Engels-, Duits- of Nederlandstalig zijn.
Resultaten
Achttien van de 803 gevonden onderzoeken voldeden aan de criteria. Acetazolamide (doseringsbereik 250-750 mg/dag) is effectief voor de preventie van acute hoogteziekte. Subgroepanalyse toont relatieve risico's van 0,51 (95%-betrouwbaarheidsinterval 0,38-0,69), 0,51 (0,40-0,64) en 0,48 (0,30-0,76), voor het gebruik van respectievelijk 250 mg, 500 mg en 750 mg acetazolamide per dag. We vonden geen dosisresponseffect. Het number needed to treat was 5,5 (250 mg), 5,5 (500 mg) en 5,2 (750 mg). In vergelijking met een placebo komen paresthesieën, dysgeusie en polyurie significant vaker voor bij personen die preventief acetazolamide gebruiken.
Conclusie
Voor de preventie van acute hoogteziekte is het gebruik van minimaal tweemaal daags 125 mg acetazolamide effectief. Een hogere dosering beschermt niet significant meer tegen acute hoogteziekte en leidt mogelijk tot meer bijwerkingen.