01-06-2010 | Original Article | Uitgave 3/2010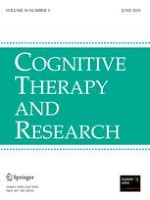 Preliminary Study of Attention Training to Threat and Neutral Faces on Anxious Reactivity to a Social Stressor in Social Anxiety
Tijdschrift:
Auteurs:

Heide Klumpp, Nader Amir
Abstract
Cognitive theories of anxiety emphasize attentional bias to threat contributes to the maintenance of anxiety disorders (e.g., Williams et al. in Cognitive psychology and emotional disorders, 2nd edn. Wiley, Chichester,
1997
). For example, anxiety may be the result of bias that interacts with vulnerability characteristics and stress (e.g., Mathews in Behav Res Ther 28:455–468,
1990
; Mathews in The Psyochologist 6:493–499,
1993
). Yet, few studies have experimentally directed attention towards threat to investigate its role in anxiety to stress. This study examined attention training effects on stress response in moderately socially anxious individuals. Participants were randomly assigned to one of three probe detection conditions: (1) attention training away from threat, (2) attention training to threat, or (3) attention randomly directed to threat and away from threat with equal frequency (control condition). Afterwards, participants completed a speech challenge and rated their anxiety level. Results indicate attention training to threat or away from threat, compared to no training, attenuated anxiety in response to a social stressor in socially anxious individuals.