01-02-2008 | Nascholing | Uitgave 1/2008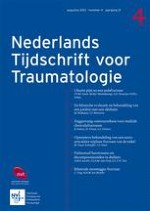 Prehospitale volumetherapie bij traumapatiënten
Tijdschrift:
Auteur:

M. R. Raum
Belangrijke opmerkingen
Traumatoloog, Afdeling Chirurgie, Universitair Medisch Centrum Groningen
Samenvatting
De indicatie, het type en de hoeveelheid van volumeresuscitatie bij traumapatiënten in de prehospitale fase blijven een controversieel punt. Er bestaat consensus dat traumapatiënten last hebben van acuut bloedverlies. Naast de premisse van stop the bleeding, wat de hoogste prioriteit heeft, is volumetherapie de tweede stap in de behandeling van shock. Ten eerste is het prikken van twee grote infuuslijnen geïndiceerd. Patiënten zonder teken van acute bloeding zijn niet infuusbehoeftig. Bloedverlies door stopbare bloedingen, zoals bij extremiteitenletsels of bij patiënten die zichzelf getamponneerd hebben, kan zonder problemen worden gesubstitueerd. Bij niet-beheersbare bloedingen door intra-abdominale of pelvine of renale letsels is snel transport naar het ziekenhuis essentieel. In die situaties geven vele experts de voorkeur aan het instellen van een aangepaste bloeddruk in de zin van 'permissieve hypotensie' met een systolische bloeddruk van 70-90 mmHg. Patiënten met een ernstig schedelhersentrauma (SHT) vragen om een voldoende cerebrale perfusiedruk, die pas vanaf 90 mmHg gemiddelde bloeddruk (MAP) kan worden gewaarborgd, zodat hierbij een forse volumetherapie geïndiceerd is.Kristalloïde vloeistoffen hebben de voorkeur. Vanaf twee liter bloedverlies kunnen colloïde vloeistoffen worden bijgevoegd. In hoeverre colloïde en/of hyperosmolaire/hyperonkotische vloeistoffen een rol spelen in de preklinische fase, is nog niet duidelijk.