01-12-2011 | Special Article | Uitgave 12/2011 Open Access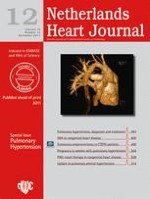 Pregnancy in women with pulmonary hypertension
Tijdschrift:
Auteurs:

P. G. Pieper, E. S. Hoendermis
Introduction
Pulmonary hypertension is a rare disorder that can be present in women of child-bearing age. During pregnancy it is associated with high morbidity and mortality in all defined clinical groups of pulmonary hypertension (Table
1
). Therefore, pulmonary hypertension is regarded a contraindication for pregnancy [
1
–
4
]. However, sometimes women become pregnant despite being advised against pregnancy, or pulmonary hypertension is newly diagnosed during pregnancy. These women are usually advised to terminate the pregnancy even though termination itself is also associated with maternal risks. Some women do not regard termination as an acceptable option and carry on with their pregnancy. This special article discusses the definition, classification, pathophysiology and clinical features of pulmonary hypertension during pregnancy, it reviews the literature on outcome and covers the management of pregnancy in women with pulmonary hypertension, including the effects of advanced anti-pulmonary hypertension therapies.
Table 1
Summarised clinical classification of pulmonary hypertension
1.
Pulmonary arterial hypertension
1.1 Idiopathic
1.2 Heritable
1.3 Drugs and toxins induced
1.4 Associated with
 1.4.1 Connective tissue diseases
 1.4.2 HIV infection
 1.4.3 Portal hypertension
 1.4.4 Congenital heart disease
 1.4.5 Schistosomiasis
 1.4.6 Chronic hemolytic anaemia
1.5 Persistent pulmonary hypertension of the newborn
1′ Pulmonary veno-occlusive disease / pulmonary capillary haemangiomatosis
2.
Pulmonary hypertension due to left heart disease
(systolic or diastolic dysfunction, valvular disease)
3.
Pulmonary hypertension due to lung diseases and/or hypoxia
(such as chronic obstructive pulmonary disease, interstitial lung diseases, and others)
4.
Chronic thrombo-embolic pulmonary hypertension
5.
Pulmonary hypertension with unclear and/or multifactorial mechanisms
(such as hematological disorders, systemic disorders, metabolic disorders and others)
Definition and classification
Pulmonary hypertension is defined as an increase in mean pulmonary arterial pressure (mPAP) ≥25 mmHg at rest as assessed by right heart catheterisation [
2
]. It can be present in multiple clinical conditions. The clinical classification of pulmonary hypertension is summarised in Table
1
[
2
]. Haemodynamically, group 1, 3, 4, and 5 are characterised by a pulmonary wedge pressure <15 mmHg and are referred to as pre-capillary pulmonary hypertension, while patients in group 2 have postcapillary pulmonary hypertension with a pulmonary wedge pressure >15 mmHg. The histopathology differs between the clinical groups and can include medial hypertrophy, intimal proliferation, fibrosis, thrombotic lesions and venous thickening. Complex plexiform lesions are only present in group 1 (pulmonary arterial hypertension). Vasoconstriction, obstruction, vascular remodelling and endothelial dysfunction contribute to the increase in pulmonary vascular resistance [
2
,
5
].
Pathophysiology related to pregnancy
The normal physiological changes of pregnancy are poorly tolerated by women with pulmonary hypertension. Pregnancy is associated with increased plasma volume and decreased systemic vascular resistance, both resulting in an increase in cardiac output. In healthy women a decrease in pulmonary vascular resistance accommodates the requirements for increased cardiac output. In women with pulmonary hypertension, pulmonary vascular disease prevents the fall in pulmonary vascular resistance, leading to a rise in pulmonary artery pressure with increased cardiac output. Ultimately, the necessary increase in cardiac output can not be achieved resulting in right heart failure. The leftward shift of the interventricular septum increases, impairing diastolic filling of the left ventricle and further compromising cardiac output. Moreover, the hypercoagulability of pregnancy increases the risk of pulmonary emboli and pulmonary arterial thrombosis. Paradoxical emboli are a risk in women with a patent foramen ovale or Eisenmenger syndrome. Women with Eisenmenger syndrome are at particular risk of increased right-to-left shunting due to the decrease in systemic vascular resistance, which results in increased hypoxia, thus aggravating pulmonary vasoconstriction and right heart failure [
5
,
6
]. Hypoxia can also lead to syncope and sudden death in this group of patients.
During labour and delivery the risk of complications increases due to volume shifts resulting from blood loss and uterus contractions, vasovagal reaction to pain, acidosis and hypercarbia leading to a further increase in pulmonary vascular resistance, and an increased risk of thromboembolic complications.
Clinical features and diagnosis
Fatigue and exertional dyspnoea are the most frequent presenting symptoms. They are due to reduced cardiac output and impaired oxygen transport. Since these symptoms also occur in healthy pregnant women, the diagnosis during pregnancy can be delayed. Usually the symptoms aggravate during the course of pregnancy and dyspnoea can occur at rest. Chest pain is often present and reflects right ventricular ischaemia. Syncope can result from low cardiac output. Several signs of right heart failure, such as hepatomegaly, ascites, and ankle oedema, may be hard to identify during pregnancy or resemble normal pregnancy. Elevated jugular venous pressure and a loud pulmonary component of the second heart sound are useful signs that point to the diagnosis. Echocardiography will usually reveal the diagnosis. The threshold to perform echocardiography should be low during pregnancy in women with dyspnoea [
1
]. Right heart catheterisation is required to confirm the diagnosis and gives useful additional information on pulmonary vascular resistance and cardiac output. It can be performed with relatively low foetal risk since radiation can be avoided. During pregnancy it should be reserved for women in whom the results have therapeutic consequences, because of the associated risks of thromboembolism and infection. Functional capacity needs to be evaluated (New York Heart Association or World Health Organization functional class [
2
]) and exercise capacity can be assessed with an un-encouraged six-minute walking test.
Prognosis of pregnancy in women with pulmonary hypertension
Management of pregnancy and delivery
When heart failure occurs, diuretics are the appropriate therapy, preferably furosemide. Spironolactone is contraindicated because of anti-androgenic effects.
Conclusion
Pulmonary hypertension is associated with high mortality and morbidity risks for the mother. The risk is increased in all groups of pulmonary hypertension (1 to 5). Although women with severe pulmonary hypertension seem to be at higher risk, a safe cut-off value is not known. Pregnancy is therefore contraindicated, but if a woman chooses to continue pregnancy, multidisciplinary care in highly specialised services is mandatory. New targeted anti-pulmonary hypertension therapy may decrease the risk.
Open Access
This article is distributed under the terms of the Creative Commons Attribution Noncommercial License which permits any noncommercial use, distribution, and reproduction in any medium, provided the original author(s) and source are credited.
Open Access
This is an open access article distributed under the terms of the Creative Commons Attribution Noncommercial License (
https://​creativecommons.​org/​licenses/​by-nc/​2.​0
), which permits any noncommercial use, distribution, and reproduction in any medium, provided the original author(s) and source are credited.