01-10-2007 | Empirical Research | Uitgave 7/2007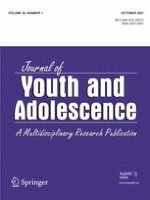 Predictors of receiving counseling in a national sample of youth: the relative influence of symptoms, victimization exposure, parent–child conflict, and delinquency
Tijdschrift:
Auteurs:

Heather A. Turner, David Finkelhor, Richard Ormrod
Belangrijke opmerkingen
For the purposes of compliance with Section 507 of PL 104-208 (the "Stevens Amendment"), readers are advised that 100% of the funds for this program are derived from federal sources, (this project was supported by Grant Nos. 1999-JP-FX-1101 & 2002-JW-BX-0002 awarded by the Office of Juvenile Justice and Delinquency Prevention, Office of Justice Programs, US Department of Justice). The total amount of federal funding involved is $584,549. Points of view or opinions in this document are those of the authors and do not necessarily represent the official position or policies of the US Department of Justice.
Abstract
This paper identifies factors that predict children's use of counseling services within a 2-year period. Using two waves of data from a national survey of 1009 youth age 6–17, we describe differences in utilization by demographic characteristics and compare receipt of counseling between children who scored high versus lower on: (1) levels of mental health symptoms, (2) multiple victimization exposure; (3) levels of delinquency; and (4) parent–child conflict. Multivariate logistic regressions were also performed to examine the relative and independent effects of a these factors on receiving counseling. Results indicate that counseling was received by only one- quarter or less of the 10–17 year olds and one-third or less of the 6–9 year olds with the highest levels of symptoms, victimization or delinquency. For the 10–17 year olds, delinquency and parent–child conflict were better predictors of treatment than were mental health symptoms or victimization exposure. In contrast, younger children (age 6–9) were most likely to receive counseling if they lived in a single parent or stepfamily household. The findings suggest that more counseling should be made available to distressed and victimized children, particularly those who do not engage in high delinquency and conflict which tend to promote referral.